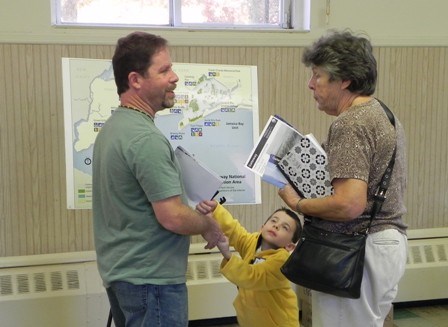 Gateway wants your input!
Gateway is moving to clean up radioactive contamination from Great Kills Park as required by the Comprehensive Environmental Response, Compensation and Liability Act (or CERCLA). Community involvement is a necessary part of the process.
Citizens will have a number of opportunities to learn more about the project as well as review and comment upon proposed cleanup actions.
A public information session was held on May 15, 2014 at Fort Wadsworth. Thanks to all of you who could make it. If you didn't make it, we've listed the documents that were handed out.


Radioactivity in Common Products
Want to know more? Please take a moment to review the information below or go to the Environmental Investigations page to download the final reports completed to date.
The public can also review an administrative record file, containing copies of documents upon which the selection of remedial actions will be based, at the following locations:
New York Public Library
Great Kills Branch
56 Giffords Lane (at Margaret Street)
Staten Island, NY 10308
Contact: Library Manager, Lorraine Ruiz
Phone: 718-984-6670
www.nypl.org/locations/great-kills

National Park Service
1050 Walnut St, Suite 220
Boulder, Colorado 80302
Contact: Greg Nottingham
Phone: 303-415-1483
Mon.-Fri. 9:00am - 4:00pm

These repositories will be updated at key milestones in the CERCLA process.
If you have questions or would like to be added to our mailing list contact us by:
calling the Great Kills Park Cleanup Message Line: 718-354-4606 or
email us at Great Kills Park Email Address: greatkillscleanup@nps.gov
Go back to main page.