Floyd Bennett Biography Page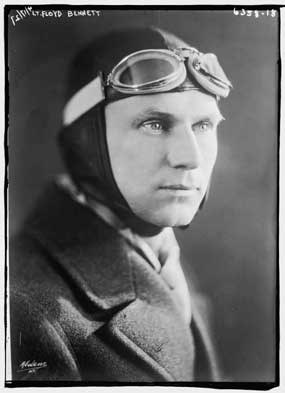 Floyd Bennett was born at Warrensburg, New York, on October 25, 1890. He left school at the age of 17 to became an auto mechanic.
When the United States entered World War I in 1917, he enlisted in the United States Navy as an aviation mechanic, and later signed up for aviation training. He earned his pilot's wings, but remained an aviation mechanic for the duration of the war. After the war, Bennett elected to stay in the Navy.
In 1925, Bennett was assigned to Lieutenant Commander Richard E. Byrd's naval aviation group attached to D. B. MacMillan's expedition to Greenland. Bennett's character and ability caught the attention of his commander, and he soon became Byrd's close friend and personal pilot.
Together they planned a flight over the North Pole, and on a second expedition in the next year they carried out the plan, flying a Fokker tri – motor monoplane, the "Josephine Ford," from Spitsbergen, Norway, to what they believed to be the North Pole and back on May 9, 1926.
Both men were awarded the Medal of Honor for their feat, one of the rare peacetime awards of the Medal. By Act of Congress, both Byrd and Bennett were promoted; Byrd to Commander and Bennett, to Warrant Mechanic.
He and Byrd then began planning for an air crossing of the Atlantic in their second plane, the "America." However, Bennett suffered serious injuries, including broken ribs and a punctured lung, when the "America" crashed on a test flight, opening the way for Charles Lindbergh to make his famous New York to Paris flight in May of 1927.
Although he was not completely recovered from his injuries, Bennett was appointed second – in – command of Byrd's 1928 – 30 expedition to the South Pole. Byrd left most of the planning to Bennett. Before the expedition set out, Bennet joined fellow aviator Bernt Balchen set out to rescue the crew of the "Bremen," the first aircraft to cross the Atlantic from west to east, which had crashed off of the coast of Labrador, Canada.
While flying to the crash site, Bennett, still weakened from the earlier crash of the "America," contracted pneumonia. He was taken to a hospital in Quebec, Canada. Charles Lindbergh volunteered to fly a serum to Bennett, but arrived too late. Floyd Bennett died on April 25, 1928 in a Quebec hospital. He was mourned throughout the United States as a national hero, and was buried in Arlington National Cemetery.
Floyd Bennett and his wife Cora had been living in Brooklyn, New York at the time of his death. It was decided that New York City's first municipal airport, which was being built at the time of Floyd Bennett's death, would be named in his honor. The airport was dedicated on May 23, 1931 in ceremonies attended by Mrs. Bennett.

Last updated: February 26, 2015