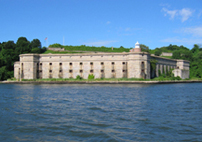 Sentinels of Our Shores: A program for grades 4-5
Note: This free program is available to school groups beginning on January 1, 2013. See below for information on how to reserve this program.
How did a young United States defend its greatest port, New York City? Sentinels of Our Shores takes upper elementary students back to the year 1846, when war clouds gathered over the US, Canada and Mexico.
First, student "cadets" conduct hands-on scientific experiments with our own unique air-powered cannon. How do changing variables, such as the angle or air pressure, affect the range of the cannon? Cadets then decide where to build forts by reading historic documents, including maps.
After this 90-minute program, have lunch in the "Learning Lunchroom" at the National Parks of New York Harbor Education Center, followed by a 30-minute visit to historic Battery Weed.
Maximum 35 students. To reserve this free program, call 718-338-3338 ext. 274 or email us.