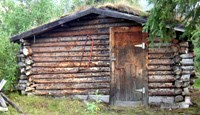 Private land and cabins are scattered throughout Alaskan parks and refuges. Though travel may be through remote country, you may encounter private property.
Cabins, caches, traplines and fishnets should be respected and not disturbed.
Check with the land manager of the area you are visiting for land status.
You may also encounter prehistoric or historic sites. These sites usually hold great significance for the local Native people. Respect their heritage and leave the site undisturbed.
During your trip in the Arctic, you will most likely visit rural communities. Invasion of community privacy is a concern of many rural residents. Be sensitive to local lifestyle activities. Ask before photographing.