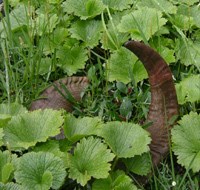 It is illegal to remove most natural objects, including plants and flowers, as well as cultural artifacts from any National Park Service lands.
Natural objects of beauty or interest, such as antlers or fossils, should be left for others to discover and enjoy. Antlers also provide an important calcium source for small mammals.
Gates of the Arctic has been inhabited for thousands of years. Decendants of ancient residents still use the land and its resources to lead a subsistance lifes. Any items that you find such as traps, tools, firepits, etc., that appear recent, may be parts of historical or prehistoric cultural sites. Please do not disturb things that are even potentially cultural or historic structures or artifacts. Please report such sites to park staff so they can be surveyed.