People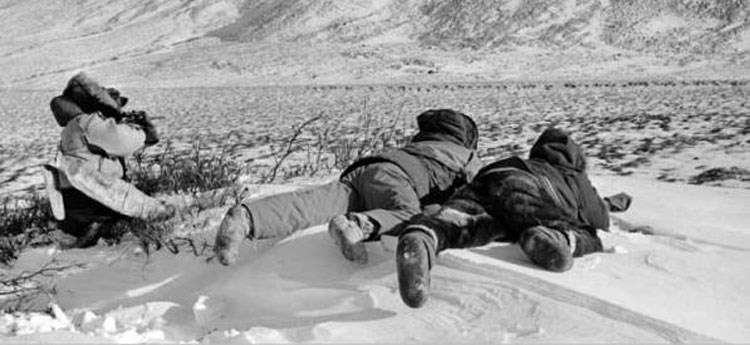 People have lived in the central Brooks Range for at least 12,000 years and Gates of the Arctic National Park and Preserve contains rich archaeological and historic. Today the region is inhabited by Athapaskan, Eskimo and various Non-Native Alaskan peoples who have made the area their home. Traditionally, people harvested the area's natural resources for their livelihood. Populations were relatively small and mobile, moving throughout the year among a series of camps. Not until last century did people settle in permanent, year-round villages. Today there are eleven resident zone communities directly associated with the Park. Much like their predecessors, the modern day residents of these communities conduct subsistence activities within and around the park and preserve.
NPS researchers continue to study the physical and historical record of past human activities and the ecological context within which people lived. Gates of the Arctic has a long and, exceptionally well-preserved archaeological record of human adaptations to changing arctic environments. Climate, plants, animals, and even the landscapes they inhabit have changed over the 12,000 years since the end of the last ice age. Against this backdrop people have responded to those changes in various ways - in how they organized their daily and seasonal movements, the kinds of tools they used, the foods they targeted, and means by which they harvested them. These changes are evident in the plant and animal remains and discarded tools and equipment found in archaeological sites, as well as the changing patterns of site distribution across the landscape.
The historical record of people in the region begins late in the 1800s when Europeans and Alaska Natives encountered each other for the first time. Military explorers assigned to map this previously uncharted territory struggled up rivers and over mountain passes. Prospectors followed, searching for signs of placer gold and struggling through long winters in rough mining camps. Government scientists came to examine and record the intricacies of the natural and cultural history of this previously undocumented place. More recently the introduction of recreational adventurers seeking untamed places has added a new page to the history of the region.

Archaeology at Gates of the Arctic - Begin to discover the ancient people who lived in the Brooks Range.

Historic Images of Anaktuvuk Pass - See a portion of what life was like, not long ago.


Chapter 1: Creation of Gates of the Arctic
- Hear the history and see historic photos about the creation of the park, written by Chris Allan Park Historian.

USGS Exploration of the Brooks Range
- This is a story about the early work of the USGS to map the Brooks Range.
Last updated: April 14, 2015