Landscape Dynamics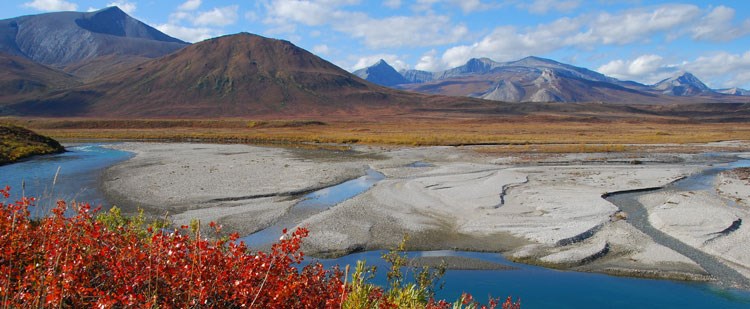 The landscape is the vegetation, water bodies, and geological feature that form the ecosystem. Landscape dynamics are the "big picture" of changes in the growing season, types of vegetation, and bodies of water.
A "greening of the arctic" caused by shorter, warmer winters is already being observed. The length and warmth of the growing season controls the amount and quality of vegetation, which is the energy supply and habitat for wildlife. Major changes in vegetation are likely to benefit some species and harm others. Changes in the climate also affect the formation and drainage of ponds and lakes, which are important habitat for many species.
Changes in the landscape of the ecosystem may impact humans by affecting accessibility and quality of subsistence plants and animals.
Satelite images are being used to determine the length of the growing season and the peak greeness of vegetation. These images provide a big-picture view of changes in the seasons that can be linked directly to weather data. They can also be used to measure things like shrub and tree cover, and the area of lakes and ponds in permafrost regions which can change rapidly and often drain entirely. Landscape dynamics is a "Vital Sign" for the Arctic Network Inventory and Monitoring Program (ARCN).
Information gathered from research and monitoring will be used to:
Discover long-term trends in the growing season as reflected in greenness of vegetation and the snow-free period.
Determine long-term trends in land cover types such as shrubs, tree, bare ground, and shallow water.

Aufeis Video - Learn about the magic of aufeis. Good to know before you go boating in the early season. (mp4, 4140KB)

Tundra Landscapes of Gates of the Arctic - Learn about tundra and the vegetation of these landscapes. (mp4, 8495KB)

Last updated: April 30, 2018