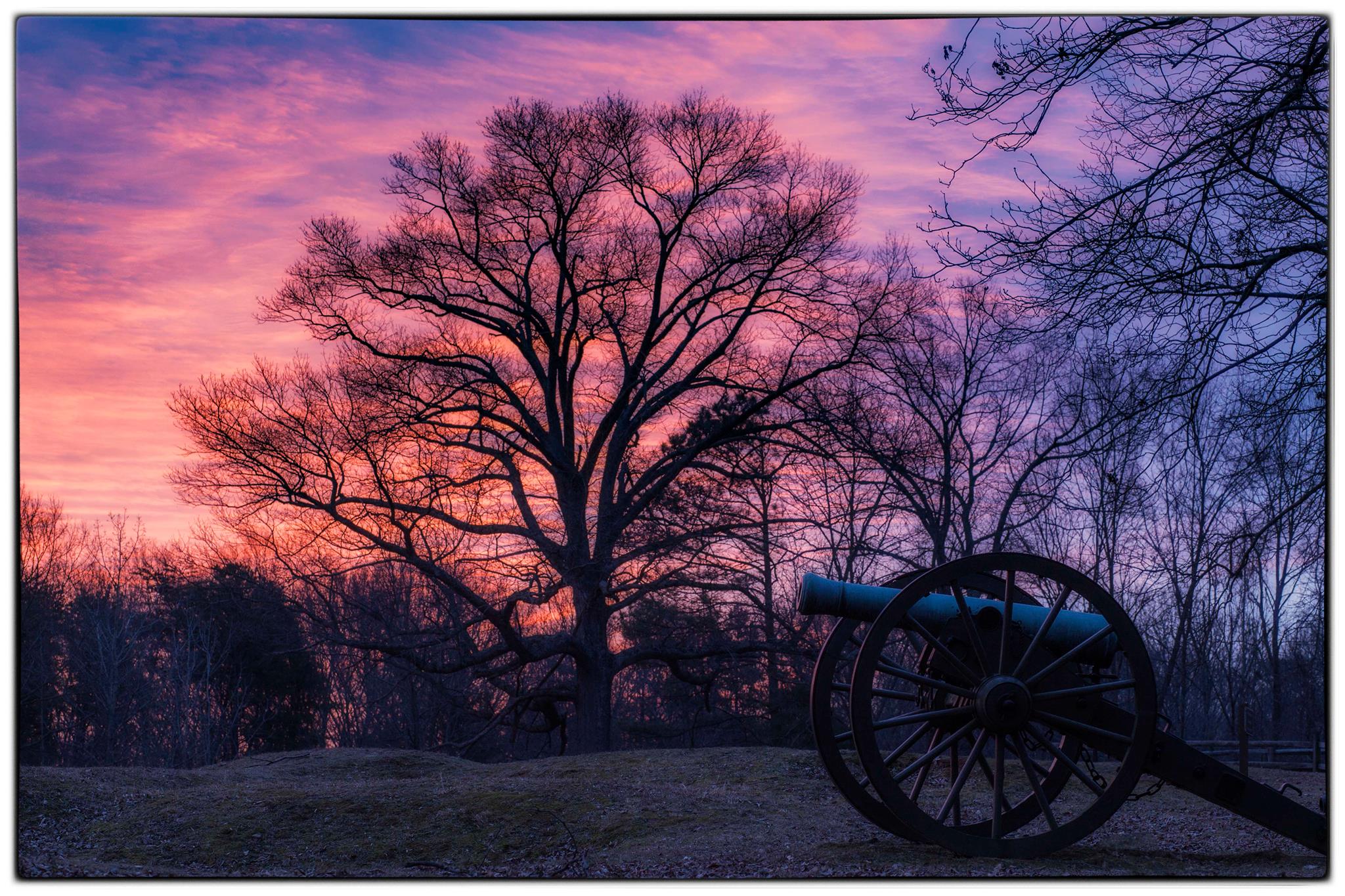 History at Sunset is an annual program held by the park during the summer season. Every Friday evening at 7 p.m., park historians will lead a tour or special program in the park or the surrounding area. These tours focus on areas rarely visited or stories rarely told.
The programs will begin at 7 p.m. and will run approximately 90 minutes. Be prepared for some walking, and please bring a flashlight. See below for the full 2017 schedule:
---
The full schedule and any special conditions that affect the programs are included below. All History at Sunset programs begin at 7 p.m. on Friday nights. All will last about 90 minutes.
Wear sturdy shoes, bring water and a flashlight, and wear bug repellant.
In the event of questionable weather, check our Facebook page for updates:
www.facebook.com/fredericksburgspotsylvanianmp
June 16:
Headquarters: A Walk to Braehead, Howison Hill, & Lee's Hill.
Frank O'Reilly. Meet at Tour Stop 3, North Lee Drive.
This program will involve the closure of North Lee Drive to traffic as we explore the area around Lee's Headquarters during the Battle of Fredericksburg, including historic Braehead.
More specific directions and parking information can be found here.
June 23:
The Red Badge of Courage at Chancellorsville.
Becky Oakes. Meet at Chancellorsville Visitor Center, 9001 Plank Road, 22553.
Millions have read Stephen Crane's masterful Red Badge of Courage, but few realize the book is based on the Battle of Chancellorsville. This program will hike the landscape that inspired Crane and will compare his work of fiction with what participants in the battle said of their experiences in these woods (hint: the comparisons are remarkable).
June 30:
Too Late: Gordon's Flank Attack.
Greg Mertz. Meet at Tour Stop 2, Wilderness Exhibit Shelter, 35347 Constitution Highway, 22508
This is a rare opportunity to explore one of the least accessible parts of any of the four battlefields—the scene of the ultimate fighting of the Battle of the Wilderness.
July 7: Eye of the Storm: Guinea Station and Fairfield.
Meet at the Jackson Shrine, 12019 Stonewall Jackson Road, Woodford, 22580.
A team of historians will explore the larger history of Guinea Station (an immense and important Confederate supply depot), the Chandler's "Fairfield" plantation, and the building where Stonewall Jackson died.
July 14:
Slavery and Slave Places in Fredericksburg
.
Becky Oakes & John Hennessy. Meet Riverfront Park, next to Shiloh Baptist Church (Old Site), Sophia Street, 22401.
Familiar places, forgotten stories. This program will look at some of the sites in town that speak of the town's long history of slavery, with an emphasis on those who struggled through bondage to a new life beyond.
July 21:
Absolutely Hopeless: May 18 at Spotsylvania.
Beth Parnicza & Peter Maugle. Meet at the Bloody Angle, Spotsylvania Tour Stop 3.
You perhaps know the landscape—the Bloody Angle—but you likely don't know the story of the futile, disastrous Union attack launched across that ground on May 18, 1864, six days after the more famous fighting on May 12. This program will illuminate a story that history has forgotten, but one whose participants could never forget. Parking is available along tour road and GPS coordinates for Tour Stop 3 are 38.223728, -77.602356
July 28: People and Places of the Sunken Road (Including Brompton).
Becca Jameson & Ryan Quint. Fredericksburg Battlefield Visitor Center, 1013 Lafayette Boulevard, 22401.
This program will look at the Sunken Road not through the lens of soldiers, but through the eyes of those who lived there. The walk will include the grounds of "Brompton."
August 4:
Salem Church Inside and Out.
Greg Mertz & John Hennessy.
Park at new Salem Church
, 4044 Plank Road, Fredericksburg, 22407.
For this one, bring a lawn chair. This program will split time inside and outside the church—looking at the Church's storied past and the battle that raged around it. Please park in the lot new Salem Church, adjacent to the historic church, accessed from Route 3.
Campfire Programs

For the summer of 2017, the park will also be offering a series of Campfire Programs. A bit different than History at Sunset, these programs will give visitors and historians a chance to explore more topical themes. All campfire programs will take place on Saturday nights on the lawn below the Sunken Road, behind the Fredericksburg Battlefield Visitor Center. Bring a lawn chair or a blanket to sit upon, and a flashlight. All campfire programs begin at 8 p.m.

Sat. June 10: Brave Enough to be Afraid: Fear and Courage in Battle.
Beth Parnicza will use her immense knowledge of local battles to explore the very human reaction to combat—a reaction that embodied both fear and courage.

Sat. July 22: "We Wished for Night": Darkness and Night on the Battlefield.
For some, night meant relief. For others, it intensified fear. Peter Maugle will look at how battlefields changed when the sun went down, and what it meant for those who had no choice but to endure in place.

Sat. Aug. 12: Aftermath: The Wounded and the Dead.
John Hennessy will look at the immense efforts to cope with the aftermath of battle in the Fredericksburg region, from treating the wounded, to burying the dead, to, finally, according the dead dignified burials.


For more information, contact the park at (540) 693-3200.