Mary Walker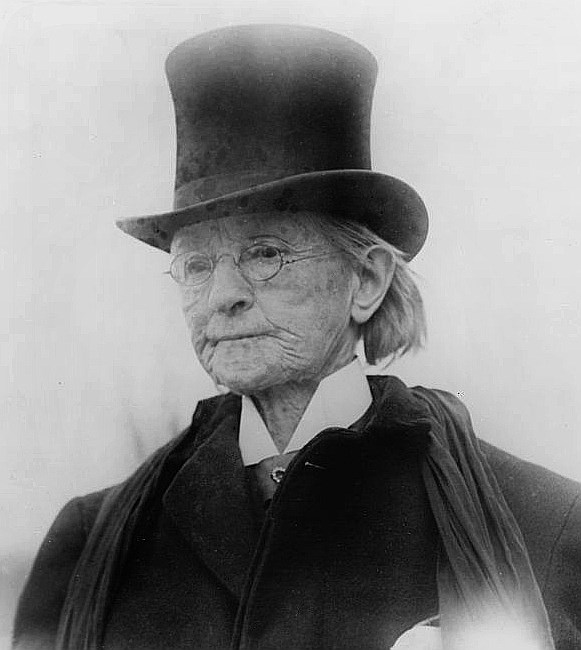 An eccentric and controversial figure, Dr. Mary Walker remains one of the most interesting women of the American Civil War. She is most often remembered as the only female recipient of the Congressional Medal of Honor, as well as for her progressive beliefs and behaviors during the course of the war.
Born in 1832, Mary Edwards Walker was only 20 years old when she entered Syracuse Medical School. She graduated three years later with her M.D., the second woman in the United States to finish medical school. She operated her own practice in Rome, New York, but when civil war broke out in 1861, she closed her practice and petitioned the government to grant her a commission as a Union Army surgeon. Her initial petition was denied, and she resorted to volunteering in various hospitals and operating her own organization to assist women visiting sick and wounded relatives in Washington D.C.
As a member of the Sanitation Commission, Dr. Walker tended the wounded in the aftermath of the battle of Fredericksburg. "At one time, when I was down to the Lacy House at Fredericksburg, after the famous battle there. When the wounded were brought from Fredericksburg to near this house, I was directed by the managing surgeons to take any cases I chose and dress them preparatory to sending them to Washington." Dr. Walker wrote of some of the more gruesome cases she handled in Fredericksburg, but unfortunately, not much else is known of her time in the area.
Dr. Walker continued to serve in whatever capacity she could until she made a second petition in January 1864, this time directly to President Lincoln. Lincoln granted her request, provided that the men of the Medical Department of the Army consented to her presence. Dr. Walker took it upon herself to travel to Chattanooga, Tennessee in March 1864, and report for duty to General George Thomas, commander of the Army of the Cumberland. Soldiers marked her arrival for her unusual appearance, as Dr. Walker would often dispense of traditional female clothing and wear bloomers or trousers. "Miss Mary Walker created a sensation…she calls herself Dr. Mary Walker and wears a Bloomer and rode her fiery steed with grace and dignity." Dr. Walker preferred this unusual garb for health reasons;she correctly believed that traditional petticoats and corsets created medical issues for women.
Records of her work with the Army of the Cumberland are conflicting and influenced by rumors that circulated to discredit Dr. Walker. Many soldiers believed that Dr. Walker began an affair with a brigade commander, and others believed her to be a spy. It is known that she traveled outside the army through Georgia to treat women and children in the area. One day in April she encountered Confederate pickets guarding a road and was captured. She happened to be wearing the uniform of a surgeon, and was not immediately cast as a spy. Dr. Walker was eventually transported to Camp Thunder in Richmond, Virginia, where she was held for four months. She was derided in the Richmond Examiner as a woman of mixed-race heritage and a forceful bully with a lover in Libby Prison. She was eventually released in August 1864.
Dr. Walker was awarded the Medal of Honor on November 11th, 1865 for her "valuable service" and for her "hardships as a prisoner of war". Her citation comments on the fact that she was not eligible for commission as an officer or promotion, implying that the medal was one of the only ways to commend a woman at that time for her services to the army.
When it was first created, the Medal of Honor was awarded judiciously to many soldiers who certainly would not have received the decoration based on contemporary standards. In 1917, the US Army reviewed many of the recipients, and 910 medals were revoked from those whose actions were disqualified. Unfortunately, Dr. Walker was among those asked to return their medals. She did not comply with this request, and wore her medal proudly until her death in 1919 at the age of 87. In 1977, her medal was posthumously reinstated by order of President Jimmy Carter, and she remains the only woman to have earned the Medal of Honor.
Text by Maureen Lavelle
Last updated: July 16, 2016