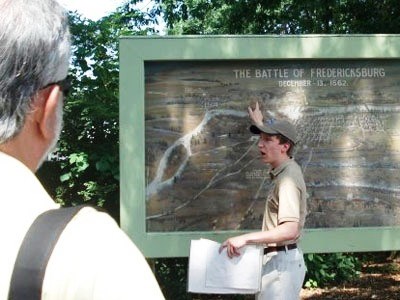 "I just couldn't pass up the chance to live on and work at these battlefields! I found the internship to be a truly rewarding experience - I gained confidence in public speaking and research, really enjoyed creating walking tours and sharing my insights with the public... Living and working on the battlefields also gave me a greater appreciation for the individual soldiers who fought in the conflict."
- Andy Mach, Historical Interpreter Intern, 2009
---

How long is the internship?
Internships generally last about twelve weeks. The historical interpreter internship for the Summer of 2019 will run from May 20 to August 11. Applications will be accepted from December 1, 2018 to January 31, 2019.

Some roles of an Historical Interpreter include:
Answer questions about the park's location and points of interest

Assist visitors with ancestor research and with general Civil War questions

Develop and conduct their own battlefield walking tours
Interns are generally assigned to work two or three duty stations, depending on the season. These stations include two visitors centers, two outdoor exhibit shelters, and two historic structures. A few interns during the summer season may also be assigned to conduct weekly children's programs or assist our park curator with projects. Primary duty stations include:
The Fredericksburg Battlefield Visitor Center

The Chancellorsville Battlefield Visitor Center

The Wilderness Exhibit Shelter

The Spotsylvania Exhibit Shelter

Stonewall Jackson Shrine

Chatham Manor
When should internship candidates apply?

The park typically accepts historical interpreter interns for the
spring, summer, and fall,
with the majority of internships available for the summer months.
Summer interns are typically selected between December and February, and candidates are encouraged to submit their application as early as possible. After February 1st, please contact the park to confirm there are still internship spots available before submitting an application.
Note: Applications for Summer 2019 will be accepted from December 1, 2018 to January 31, 2019.
If you are interested in applying,
Fill in the attached
internship application form
and send to the address below or send as an attachment to
Greg_Mertz@nps.gov.
Greg Mertz
Where do interns live?

Housing in park quarters is almost always available for summer historical interpreter interns, and usually for the spring and fall as well. Housing is free of charge for interns working full-time. Each intern can expect to have their own room but share a kitchen, laundry facility, and living space.