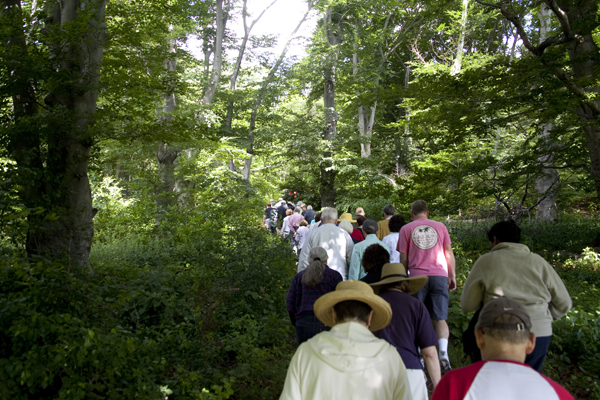 Fall 2016 Walks and Talks
All walks are free and open to the public. Some require advanced registration.
Friday, September 23, 5:00 pm
Walking to World's End
Explore the natural and cultural history of World's End in Hingham. While traversing a number of drumlins, a geological formation of the Boston Harbor, we will discuss the natural and cultural history of this landscape; including the presence of invasive plants and the origin of this park as an Olmsted design for a residential community. Join rangers from Olmsted NHS, Boston Harbor Islands NRA, and Trustees of Reservations, our hosts and managers of World's End for a two-hour evening adventure. Reservations are required by Thursday, September 22.



Sunday, October 16, 8 am
Ponds, Pastures, and Parkways: A Day Walk Along the Emerald Necklace
Take a hike in the crisp fall air, as we explore Olmsted's linear park system from the marshes of the Back Bay Fens to the meadows and woodlands of Franklin Park. This six-hour tour will explore the diverse landscapes of Olmsted's masterpiece of park design.
Walk is FULL. Please add yourself to a WAITING LIST if your wish and we will contact you by 10/15 if space becomes available.


Saturday, November 26, 10:00 am
"Learn and Burn" at Jamaica Pond
Learn about Frederick Law Olmsted and this Emerald Necklace landscape while burning off calories from Thanksgiving meals! The walk will include two 1.5 mile loops around the Pond, the first being faster-paced (after a short introduction) and the second a slower "cool-down" with more frequent stops to discuss and view the history and features of this Emerald Necklace landscape. Rain or icy conditions will cancel the walk.
Reservations are required by Wednesday, November 23.

Sunday, December 11, 9:00 am
Olmsted Park Bird Walk
Join us for our annual late fall bird walk with the Brookline Bird Club, co-sponsored by the Emerald Necklace Bird Club and the Friends of Leverett Pond. As usual, the walk will focus on ducks and waterfowl that are abundant this time of year. This roughly 90-minute walk is suitable for beginning birders and novices, although people of all abilities are welcome. Areas explored will include the ponds and adjoining woods of Olmsted Park, as well as nearby Jamaica Pond. Participants should bring a field guide and binoculars and wear boots or shoes they don't mind getting muddy. No advance registration is required. Meets at Daisy Field Parking Area, Willow Pond Road, between Pond Avenue and the Jamaicaway.