Lesson Plan
Albert Gallatin: Champion of American Democracy – Unit 1: Background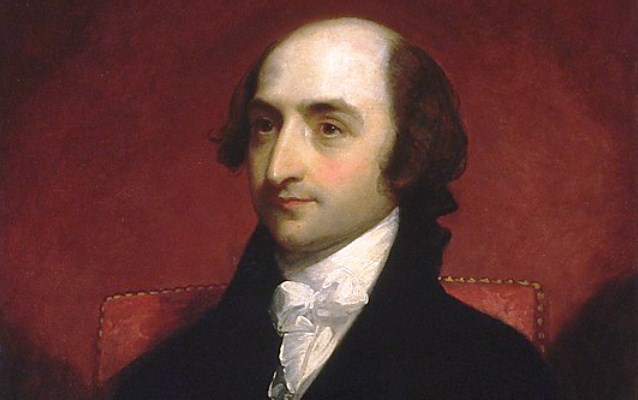 Grade Level:

Third Grade-Seventh Grade

Subject:

Commerce and Industry, Economics, Entrepreneurs, Government, International Relations, Pioneer America, Transportation, U.S. Presidents, War of 1812, Westward Expansion

Duration:

45 – 90 minutes

Group Size:

Up to 36

Setting:

classroom

National/State Standards:

National Standards for History: K-4 Standard 2, 3, 4; Gr 5-12 Era 3, 4. Curriculum Standards for Social Studies: II, III, V, VI, VII, X. Common Core: CCSS.ELA- RI.1, : CCSS.ELA- RI.3, CCSS.ELA- L.4
Overview
This illustrated background covers Albert Gallatin's early years, political career, family life and home at Friendship Hill.  A timeline is also included.  Students will learn about Gallatin's association with the Whiskey Rebellion, the Louisiana Purchase, the Lewis and Clark expedition, and the War of 1812.  His contributions as Secretary of Treasury and later accomplishments are also covered.
This is Unit 1 of the three units in this teacher's guide
Objective(s)
Guiding Question: Who was Albert Gallatin? When did he live? What were his accomplishments? Where did he live? What was his family like?
Critical Content: Albert Gallatin was very influential in the Jefferson and Madison governments. His home in Pennsylvania, Friendship Hill, is now preserved as a National Historic Site.
Student objectives: Students will…
·        List the name three important federal initiatives Gallatin was involved in
·        List two members of his family
·        List two facts about Friendship Hill
Background
"Albert Gallatin: Champion of American Democracy" is broken into three units and is targeted for upper elementary age students. Unit 1 is background information and a timeline. Unit 2 contains five pre-visit activities on the Bill of Rights, Lewis and Clark expedition and Secretary of Treasury. The final unit has five post-visit activities.
Check out these other units
Albert Gallatin: Champion of American Democracy Unit 1: Background
Albert Gallatin: Champion of American Democracy Unit 2 Pre-visit activities
Albert Gallatin: Champion of American Democracy Unit 3 Post-visit activities 
Procedure
1.    Download the pdf of the lesson plan
2.    Read the material
3.    Teach and discuss with the students
Park Connections
This lesson relates to Friendship Hill National Historic Site, which was Gallatin's Home in Pennsylvania. The material prepares students for a visit to the park and participate in one of the on site guided programs - House Tour, The Whiskey Rebellion or Secretary of Treasury.
Vocabulary
Albert Gallatin, Friendship Hill, Whiskey Rebellion, Secretary of the Treasury, Louisiana Purchase, Lewis and Clark Expedition, War of 1812, Marquis de Lafayette, Bill of Rights
Last updated: July 10, 2018