Fort Vancouver Picnic Shelter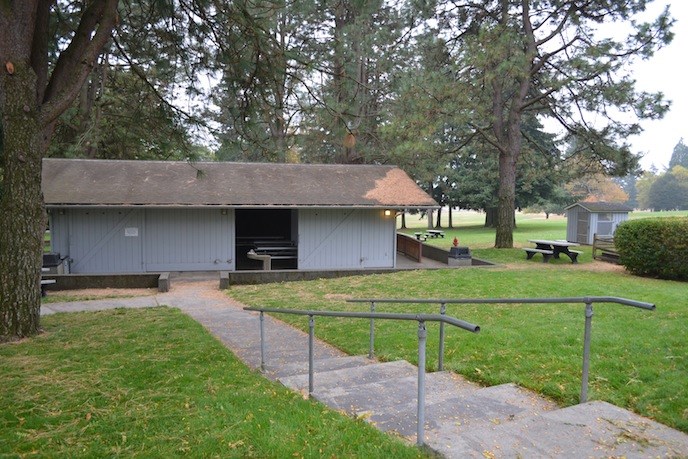 VENUE INFORMATION
This lovely covered structure is ideal for potlucks, picnics, and various events. The venue is just the thing for family gatherings and is located next to the Visitor Center, ana playground just south of the structure.


Immenities:
The Picnic Shelter holds a maximum of 70 people.
Wheelchair and stroller accessibility. Accessible restroom.
Food prep area and sink.
Sliding Door access on all four sides of the structure.
Tables and Chairs
Electricity
Parking for up to 20 vehicles during regular hours of park operation, 40 spaces during hours park is closed. First come first serve parking along East Evergreen Blvd and Fifth Street.
To inquire about date availability please submit the Permit Inquiry Form below:

Fees and General Guidelines:
Application Fee:
A $100 non-refundable application fee is for administrative process of the application. Is required when submitting an application. Acceptable forms of payment are cash, cashiers check or money order made payable to the National Park Service, or via phone with a debit/credit card. Payment of the Application Fee does not guarantee that the National Park Service will issue a permit.
Please note that complex applications and proposed activities may require extensive review in these cases, additional application fees may apply.
Recovery Fees:
Reservations during Park regular operational hours include 2 hours of use; $25 for each additional hour.
Reservations during Park non-operational hours includes 1 hour of use; $50 for each additional hour.
Management Costs
Management costs are incurred by the park through expanding park hours of operation, monitoring, supporting, cleaning up, or restoring a resource after event use. They are recovered at a rate of $50/hour per employee per hour.
General Guidelines
Your Special Use Permit does not grant exclusive access to the grounds surrounding the Picnic Shelter, including the children's play structure. For increased privacy, it is recommended that you schedule your event early or after hours.
Due to the archaeological significance of the site, ground disturbance, including the use of stakes is prohibited.
To protect parklands and wildlife, the releasing of balloons, doves or butterflies and throwing of rice, birdseed, flower petals or other natural or artificial material is prohibited.
Due to the natural terrain of the area, set ups such as chairs, carpet runners, arches, trellises, podiums, organs/pianos, loud music instruments or related items are not allowed. Flowers are permitted as long as they arrive and depart with the permittee. Decorating plans must be discussed with a Special Park Use Coordinator. Consider using the existing landscape as your backdrop.
Music, both amplified and non apprised (acoustic), may be permitted upon request, and must be managed at a level not to exceed 85 dB measured at the perimeter of the event area.
Barbecuing with propane is allowed on concrete portions around the exterior of the Picnic Shelter, but prohibited on grass or walkways.
Torches, fire pits, and other sources of open flame are prohibited.
Free standing directional signs related to the event are permitted and are to be removed immediately after the event. Affixing or staking directional signage to government property is prohibited. Any posted signs will be immediately removed. Please coordinate with park staff on the placement of event signs.
Inflatable play structures, including but not limited to bounce houses and slides, are prohibited.
Transportation vehicles, including but not limited to horse-drawn and electric carts, are prohibited outside of paved roadways.
The sale of all merchandise including but not limited to T-shirts, clothing, arts and crafts, and vending of food/beverages on park land is prohibited.
Alcohol may be consumed on site, but may not be sold. Serving alcohol at your event, must be coordinated with the Special Park Use Coordinator during the permitting process.
Prior to and immediately following the event, a National Park Service and permittee representative will complete a Facility and Equipment Checklist indicating the condition of the Picnic Shelter.
All decorations and trash must be removed from the park within the permitted time period. Additional will apply if park has to provide any cleanup or repair damage.
Additional documents may be required, including a Certificate of Liability Insurance, a performance bond, and/or a permit from the City of Vancouver. The National Park Service staff member facilitating your request will discuss these with you as necessary, depending on the size, scope, and type of activity being proposed.
A permit application is required to reserve the Picnic Shelter for exclusive use. Reservations for the Picnic Shelter can be made up to six months in advance. Fill out the inquiry form below for date availability and an application request.
Contact Information
Special park Uses
Location: Pearons Air Museum 1115 E 5th Street, Vancouver WA 98661
Email: Eva Dodd
Phone: (360) 816-6241
Last updated: January 25, 2018