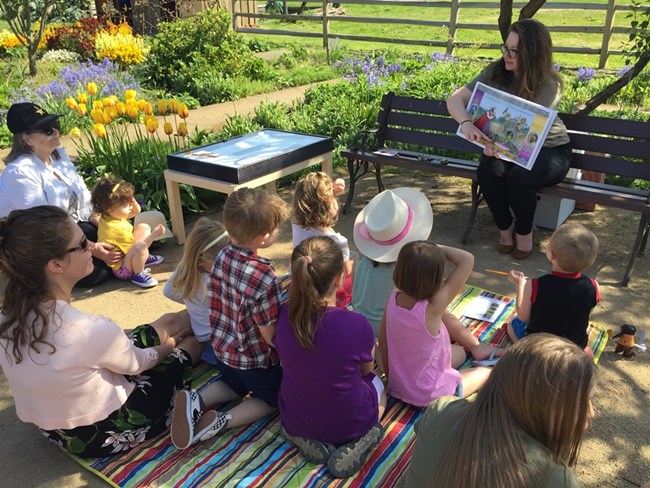 Caregivers and children ages 3 to 6 are invited to join us for a preschooler-friendly exploration of history and artifacts at Fort Vancouver! Each program features a short talk with the park's assistant curator or park ranger, story time, craft, and the chance to see real archaeological artifacts from the national park's museum collection. See below for program dates and topics.
This program takes place inside the reconstructed Fort Vancouver, at the Counting House. Entrance fees to the reconstructed fort are $7 per person; youth ages 15 and under are free. If your group is interested in attending multiple programs, the $30 Fort Vancouver Annual Pass allows for a year of free admission to Fort Vancouver National Historic Site for the passholder and up to three adults.
In good weather, this program may be relocated to an outdoor area outside the fort. On the day of the program, inquire at the Contact Station inside the fort gates.
No reservations are required for this program. This program is not intended for large groups. Caregivers must remain with their children for the duration of the program. For more information, contact Fort Vancouver National Historic Site curator Meagan Huff at (360) 816-6255 or by
email
.
Schedule
All programs take place at 2 pm and last for approximately a half hour.
Thursday, September 27, 2018
Book:
Over and Under the Pond
by Kate Messner
Did you know that a large pond used to be located next to Fort Vancouver? When it was excavated by archaeologists, thousands of artifacts were found in the pond! Join us to learn more about this forgotten landscape feature, take a rain-or-shine walk across the Land Bridge, over the former location of the pond, and earn a junior ranger badge by playing trail bingo!
Thursday, October 25, 2018
Book:
Dear Primo: A Letter to My Cousin
by Duncan Tonatiuh
Imagine only being able to communicate with your family through letters! See letters from the national park's museum collection, and make your own postcard to send to a friend.
Thursday, December 27, 2018
Book:
Windows
by Julia Denos
What would you see if you peeked through the windows at Fort Vancouver? Join a national park curator to learn about life at Fort Vancouver and see artifacts used by the people who lived here. Then, make your own colorful window to take home.
Thursday, January 24, 2018
Book:
An Orange in January
by Dianna Hutts Aston
Many items were imported to Fort Vancouver, and came from places around the world. Trade beads were made in Europe, then brought by ship on a months-long journey to the fort, where they were used to decorate clothing. Join us to make your own beaded item, while learning about how Fort Vancouver was connected to the wider world!
Thursday, February 28, 2019
Book:
Little Beaver and the Echo
by Amy MacDonald
Fort Vancouver was built with one goal in mind: trapping beavers! Learn about the tough lives of fur trade
voyageurs
and their families, and make your own beaver mask to take home!
Thursday, March 28, 2019
Book:
Please, Puppy, Please
by Spike Lee and Tonya Lewis Lee
The people who lived at Fort Vancouver and Vancouver Barracks kept dogs as pets and mascots. See an outfit worn by "Bridget," a canine mascot of the 23rd Spruce Squadron during World War I, and make a paper bag dog puppet to take home!
Thursday, April 25, 2019
Book:
Whose Moon is That?
by Kim Krans
Like the moon, national parks belong to everyone! Learn about what national parks protect, and about each element of the National Park Service arrowhead. Then, design your own arrowhead showing the things you think should be protected.
Thursday, May 23, 2019
Book:
Sam and Dave Dig a Hole
by Mac Barnett
Sometimes archaeologists don't find many artifacts, but sometimes they find truly spectacular artifacts! See some spectacular Spode ceramics from the park's archaeological collection, and decorate your own "Spode" plate to take home!