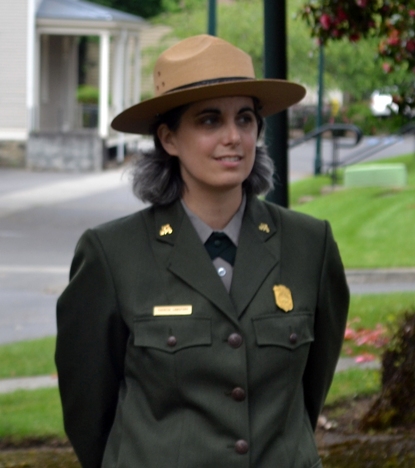 News Release Date:
June 6, 2012
Contact: Tracy Fortmann, (360) 816-6205
National Park Service Curator Tessa Langford oversees the museum collections of Fort Vancouver National Historic Site and the Vancouver National Historic Reserve as well as collections associated with several other national parks and agencies. With items totaling well over 2 million objects, Curator Tessa Langford currently manages one of the more extensive collections in the Pacific West Region. These resources represent collections from sites across Washington and Oregon, and are as varied as the landscapes and human endeavors they serve to document. The National Park Service overall cares for 42 million items and over 50,000 linear feet of archival materials, and is the second largest museum system in the nation (after the Smithsonian).
In July, Curator Tessa Langford will begin a 120 day appointment serving as the Regional Curator for the Pacific West Region. In this position, she will provide oversight for collections from 56 parks and will be both a liaison with other regional divisions and the national office and providing technical guidance to museum managers in the field. The Pacific West Region includes national parks from California, Oregon, Washington, Idaho, parts of Montana, and the Hawaiian Islands and Pacific Island protectorates, like Guam. In addition, this year Tessa began serving on two committees developing national training for cultural resource and museum management.
"We are honored that Tessa has been selected to serve on this temporary detail as the Regional Curator, as well as her selection to serve on two national curatorial committees. I think these recent appointments speak volumes about Tessa-she is a highly trained, experienced curator who is recognized as a consummate professional throughout the entire National Park Service!" stated Superintendent Tracy Fortmann.
BACKGROUND:
Fort Vancouver National Historic Site, a unit of the National Park Service, is the heart of the Vancouver National Historic Reserve. The Vancouver National Historic Reserve brings together a national park, a premier archaeological site, the region's first military post, an international fur trade emporium, one of the oldest operating airfields, the first national historic site west of the Mississippi River, and a waterfront trail and environmental center on the banks of the Columbia River. The partners of the Reserve teach visitors about the fur trade, early military life, natural history, and pioneers in aviation, all within the context of Vancouver's role in regional and national development. The Reserve's vast array of public programs - including living history events, festivals, cultural demonstrations, exhibits, active archaeology, and other special events - create a dynamic, fun, and unique tourist destination for people of all ages.