Youth Volunteer Programs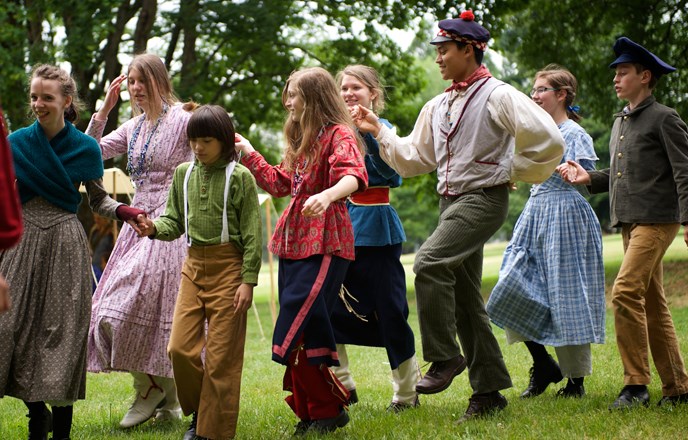 Program Philosophy
At Fort Vancouver National Historic Site, we design and operate our Youth Volunteer-In-Parks (Y-VIP) Programs to empower participants to:
Create an environment allowing for a meaningful experience and a pathway to stewardship for public lands including national parks.

Achieve life skills that can be applied as a volunteer at Fort Vancouver or in their everyday lives.

Seek a path to higher education and professional career development.

Serve as role models for the communities in which they live.

Enjoy connecting -- and helping others connect -- to a national park!
Living History Schools: Young Engagé School & Dame School
Fort Vancouver's flagship youth volunteer programs are the Young Engagé School (ages 10-18) and the Dame School (ages 10-18). These two interacting tracks share resources that train youth in providing historic interpretation, demonstrating skills from the past, and speaking to the public.
Both training pathways are modeled after historic schools and other ways in which youth learned and developed skills at the Hudson's Bay Company's Fort Vancouver in the 1840s.
The goals of the schools are for students to:
Acquire knowledge about Fort Vancouver National Historic Site history, archaeology, and museum collections.
Foster stewardship for our nation's history and cultural and natural treasures.
Learn about everyday life in the nineteenth century jointly-occupied Oregon Country, including social history, etiquette and life skills.
Develop hands-on skills in costumed and basic interpretation (including public speaking and information sharing).
Gain practical experience in cultural demonstrations, programs, events, and offsite presentations.
Apply to Volunteer
First Year Programs
Second Year and Continuation Programs
Adults: Volunteer with Youth Interpreter Schools
Last updated: July 23, 2018