The Second Year School at Fort Vancouver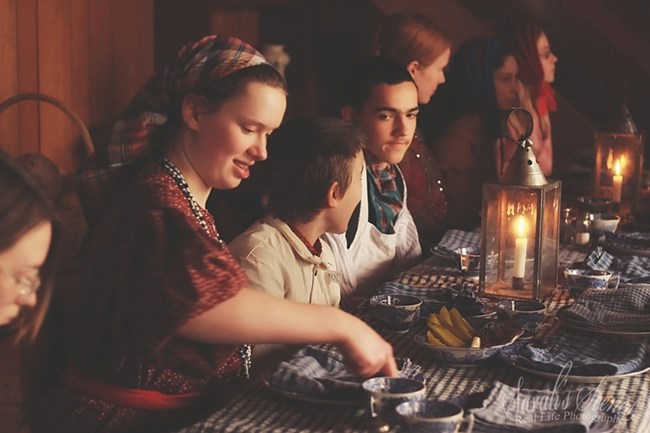 Second Year School is available to students who have successfully completed Dame School or Young Engagé School, and participated in events during the following summer or early fall season. Second Year School is a six month program, the second Saturday of the month from January through May, and also the first Saturday of June. Class begins at 9:30 am and continues until 4:30 pm.

While the first year programs of Dame School and Young Engage School are designed to provide students a solid grasp on understanding of the Hudson's Bay Company (HBC) era at Fort Vancouver, the second year program exposes students to further handwork skills they could demonstrate. Second Year School puts into practice some of the interpretive skills students learned in the first year, and strengthens their knowledge base of the historic site.

Educational tracks of Second Year School include an introduction to beadwork, nineteenth century medicine and apothecary, gardening, watercolor painting, scrimshaw, penny whistle, plus other topics. The second year program also expands on diversity awareness, research, archaeology, and other topics integral to the history of the park. Skills in first person interpretation are emphasized.

Prospective Second Year students need to send a note/letter stating their wish to continue in the training program, either as a Second Year student or in either of the first year programs, which are available. It is possible for Second Year students to take more than one track at a time.
Letters of intent to continue, written by the student, must arrive after October 1 and before November 15, and should include the $135.00 tuition for the coming year. They may be hand delivered to the Costume Shop at Fort Vancouver during regular hours of operation, to the Visitor Center or Contact Station, or they may be mailed to:

Youth Interpreter Training Program – Second Year
612 East Reserve Street,
Vancouver, WA 98661.

Last updated: July 23, 2018