The Dame School at Fort Vancouver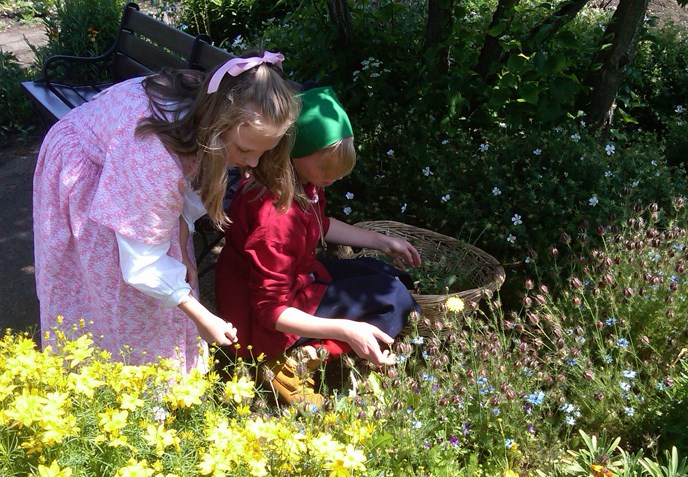 A Brief History of the Dame School
In the 19th century, Dame Schools were places of instruction where young ladies could learn household arts. Young ladies of any social class would have been expected to have some basic skill in hand sewing, knitting, and other domestic chores centered on the textile and clothing production necessary for everyday life.

At Fort Vancouver, education for young people was highly encouraged. In the morning girls and boys attended school together in the building known as the Owyhee Church, then separated in the afternoons. Boys worked in the fields, gardens, or trades workshops, while girls were instructed in handwork as would have been common at Dame School. At one time, it was recorded that 60 students were attending school at the fort, 20 of which were girls.

Both sons and daughters of trappers accompanied their parents on brigade, the year-long trapping expeditions. Young men assisted with trapping and repairing equipment, while young women helped clean pelts, make clothing, and cook for the camp.

The students were the children of Hudson's Bay Company employees stationed throughout the region. They came from a diversity of cultural backgrounds. Eventually, they learned to communicate in the trade language of Chinook Wawa. Despite this initial barrier, the Fort Vancouver school flourished for a number of years, until disagreements over religious instruction and the departure of Chief Factor John McLoughlin weakened its support. Eventually the school closed, as students began to board at other area schools that had been established in the meantime.
The Dame School Today
Following this time-honored tradition, our volunteer training program for young ladies has been named the Dame School. The curriculum is taught by members of the Compass Circle, assisted by Advanced Youth Interpreters who have completed the program. The curriculum includes many of the skills that were practiced at Fort Vancouver historically, as well as themes which assist the students in sharing their knowledge with visitors to the site.

Student participants in the Fort Vancouver Dame School must be at least 10 years of age on January 1st of the year they begin the program. Each class year has a maximum number of 16 students. The class is divided into two groups of no more than 8 participants each. Usually the class is divided by age.

A mid-morning snack and lunch of historic food types will be prepared in the Fort Vancouver kitchen, and all meals will be taken together on site. Those who have food allergies may provide personally safe food as long as it follows historic guidelines.

All activities are closely supervised by several Fort Vancouver Volunteers and National Park Service staff. All adult aides are required to attend adult orientation and instruction classes prior to assisting in the youth training programs and events.

First year classes are held on the first Saturday of the month from January through May. The classes begin promptly at 9:30 a.m. and end at 4:30 p.m. The class includes topics such as knitting, sewing, camping and interpretation skills.

There is a $135 fee per student. Each student is required to provide a metal thimble that fits the index finger of the dominant hand. All other materials for the student's use will be provided in the class kit they receive on the first day of school. Students are expected to be responsible for the items provided in their kits, and bring them to class every day. Lost objects are not replaced. Homework will be required.

Candidates are nominated by family, friends, and local educators, or fort staff, and formal invitation packets are sent out the first part of October. To learn more about the program and find out if you are a candidate, visit the Application Information page.

The aim of the present day Fort Vancouver Dame School does not concentrate on academics and has several goals:
Instruct students on handwork skills that were required for household service as would have been needed in the 19th Century.

Instruct volunteers in 19th century behavior

Begin training in historic reenactment and basic interpretation (public speaking/information sharing)

Offer practical experience in cultural demonstrations, program, and events.

Require safe practices while volunteering at Fort Vancouver.
It is hoped that these skills will introduce enjoyable leisure occupations for the lifetime of the students who participate, as well as provide quality demonstrations for the public programs and events offered at Fort Vancouver during training and beyond.
Curriculum of the Dame School
Taught by National Park Service employees and Volunteers-in-Parks (VIPs) and assisted by Adult Aides, the curriculum of the Dame School includes many skills practiced historically, as well as contemporary training in public history, public speaking and what it means to be a National Park Service volunteer who helps the public connect to the history and resources of the site.
Topics covered include:
Introduction to the National Park Service
History of Fort Vancouver, the Hudson's Bay Company's Village, and the families who lived there
Public speaking and historic site interpretation
Fibers, fabrics, sewing and embroidery
Knitting and lucet cord
Nineteenth century speech and etiquette
Field and garden plants and their uses
Animal furs and the fur brigades
Safety in a public site
Last updated: October 12, 2019