Youth Compass Circle and Adult Aides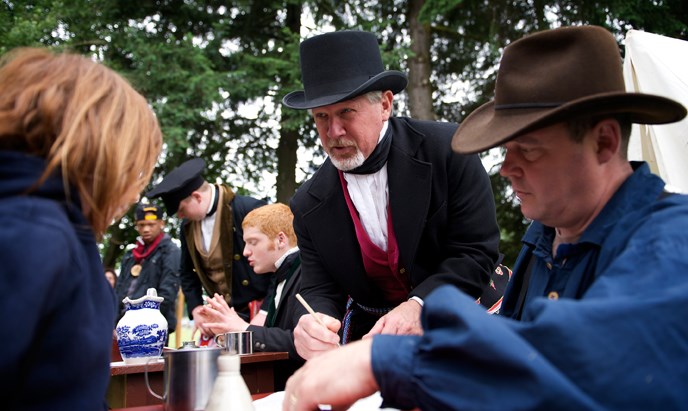 The Youth Compass Circle (Compass) serves as the guiding body for the Youth Interpreter Schools. They serve as instructors for the varied topics during school days, propose improvements to the program and many events at the site, and participate and lead during events both large and small. They observe and tend to the safety and well-being of the students during school days and at events. In early October, Compass members work as a group to read completely through all of the applications and select students to accept for the following year's school. They also participate in periodic assessments of the students participating in the program and make suggestions for improvements or corrections for the students' continued success.

The Youth Compass Circle is made up of adults and Advanced Youth Interpreters (AYI) 16 years of age or older who have successfully participated for two or more years in the program. National Park Service staff are also members of this group. Additions to the Youth Compass Circle are made by a petition and voting process.

Adult Aides are also a very important component of the park's Youth Interpreter Schools. Adult Aides who are not a member of the Compass group consist of adult family members of students in the training program. These adult aides assist knowledgeable Compass instructors in teaching 19th century skills and history. Adult Aides help keep students on track, keep a watchful eye for youth volunteer safety, and set an example of excellent volunteerism for students.

Parents, guardians, or older siblings of accepted students are encouraged to volunteer as adult aides for the school program. It is our school policy to not have parents directly overseeing their own child, to allow the child to blossom independently of their parent, though we love to have parents on site and participating in the school and events. It is a great time to share some historical fun and learning with younger family members.

Adult Aides must serve as volunteers with the National Park Service and may apply through www.volunteer.gov. Adult Aide School takes place in November and December, so adult aides should be prompt in responding when their child is accepted into the school.
Last updated: September 28, 2022