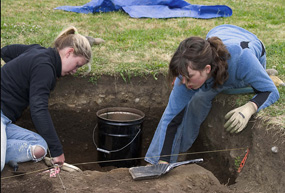 Each summer, Portland State University, Washington State University-Vancouver, and the National Park Service conduct a field school for college students at the Vancouver National Historic Reserve.
The two-part program introduces students to the methods and theories of fieldwork in historical archaeology. Students participate in all aspects of field and lab work: laying out units, excavation by shovel and trowel, mapping, drawing, photography, and cleaning, identifying, and analyzing artifacts.
The season also includes a lecture series featuring guest speakers and staff.
To learn more about how Fort Vancouver's Public Archaeology Field School engages our community, read 2011 Field School student Jeffrey Marks' dissertation Defining a Unique Model of Public Engagement and Evaluating its Implementation at the 2011 NPS Fort Vancouver Public Archaeology Field School (1,847 KB, PDF File).
Dig deeper...
For more information on annual field school activities and projects, please click on one of the links below.
Webpage for 2015 Public Archaeology Field School
Webpage for 2014 Public Archaeology Field School
Webpage for 2013 Public Archaeology Field School
Webpage for 2012 Public Archaeology Field School

Webpage for 2011 Public Archaeology Field School
Webpage for 2010 Public Archaeology Field School

Webpage for 2008 Public Archaeology Field School
Webpage for 2007 Public Archaeology Field School
Webpage for 2006 Public Archaeology Field School
Webpage for 2005 Public Archaeology Field School