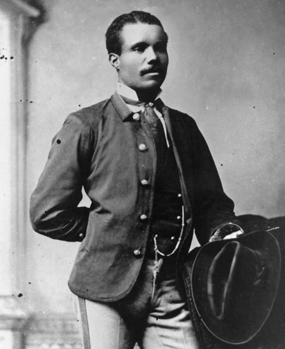 Buffalo Soldiers at Vancouver Barracks, 1899-1900
In April 1899, soldiers from Company B of the Twenty-fourth U.S. Infantry Regiment arrived at Vancouver Barracks. This marked the first time in the history of the post that a unit from one of the Army's four African American regiments, known as Buffalo Soldiers, comprised the post's regular garrison of troops.
For the next thirteen months these soldiers encountered the regular assignments of garrison duty; drilling, practicing marching and marksmanship, improving the post's infrastructure, performing maintenance and clerical work, and attending the post school.
In addition to garrison duty, these soldiers also participated in formal ceremonial activities - such as concerts, parades, funerals, and escorts. For example, they led Vancouver's annual Memorial Day Parade in 1899.
When Medal of Honor recipient Moses Williams, himself a former Buffalo Soldier who had served with the Ninth U.S. Cavalry Regiment, died shortly after retiring to Vancouver in 1899, a detachment of soldiers from Company B helped lay him to rest in the post cemetery with full military honors.