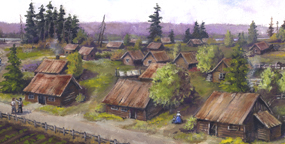 African Americans and the Hudson's Bay Company
Fort Vancouver, established in 1824, served as the administrative headquarters of the HBC's vast Columbia Department until 1847.
Fort Vancouver's employee village, also known as Kanaka Village, embodied the largest and most diverse population of any Euro-American settlement in the Pacific Northwest.
In the 1840s, the village was home to over 600 employees and family dependents, representing ethnicities as varied as English, Irish, Iroquois, Native Hawaiian Islanders, French-Canadian, Metis, over 30 different Northwest American Indian tribes, and African Americans.
Recent research by park staff reveals that several HBC employees were of African American ancestry. The stories of two employees, George Washington and James Douglas, from two distinct backgrounds and social classes, are an essential voice in the site's history.