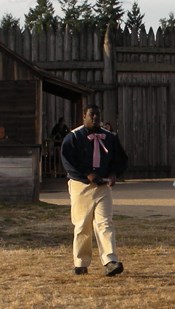 Fort Vancouver's Rich Legacy of African American History
Each year, the president designates February as African American History Month, calling on all Americans to "highlight and honor the contributions that African Americans have made to our nation."
At Fort Vancouver National Historic Site (NHS) and the Vancouver National Historic Reserve, we recognize that a better understanding of our African American legacy helps us to gain a more complete and informed understanding of our past.
For example, through continuing research our community grows as our understanding of the Buffalo Soldiers -- who lived and worked in our community -- grows.
Fortunately, the contributions of African Americans at Fort Vancouver NHS are by no means limited to the Buffalo Soldiers.
In the spirit of understanding, it is important to recognize the often-unheralded contributions that African Americans made to the fur trade of the Pacific Northwest during the Hudson's Bay Company (HBC) and U.S. Army eras of Fort Vancouver.
With this goal in mind, the park has compiled several essays that serve to highlight many compelling connections between African Americans and the site.