2022 Public Archaeology Field School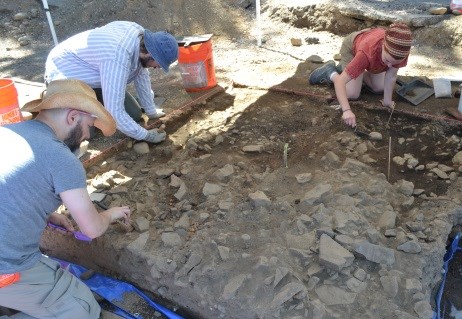 What is the Public Archaeology Field School at Fort Vancouver?
This summer, a team of students and professional archaeologists from Portland State University, Washington State University, and the National Park Service (NPS) are exploring the site of the Fort Vancouver school, where the children of fur trade families studied in the early 1800s.
This excavation is part of Fort Vancouver National Historic Site's Public Archaeology Field School Program, a long-running partnership between the NPS Regional Office, Fort Vancouver National Historic Site, and local universities that allows students to learn archaeological field techniques in one of the most important sites in the Pacific Northwest.
What will we learn from this excavation?
This year, while learning field and laboratory methods, field school students will rediscover places tied to the education of the Indigenous and Métis (Indigenous and European heritage) children of the fur trade. The Fort Vancouver school formed part of the Hudson's Bay Company's colonial project to "civilize" and assimilate Native American and Métis children who were either children of fur trade families or orphaned as a result of disease epidemics. It represents the first boarding school for mixed and Indigenous children. Starting with John Ball, a Dartmouth alumnus who taught for a season in 1832, there were several schoolmasters of uneven quality. The schoolhouse structure, a repurposed kitchen, was also used by Native Hawaiian lay preacher William Kaulehelehe as both a residence and a place to teach other Hawaiians employed by the fur trade company.
One of the structures studied this summer also served as the "Owhyhee Church" for Native Hawaiian workers of the Hudson's Bay Company as well as being the location of the first (1838) Roman Catholic mass in the Pacific Northwest. Students and archaeologists will explore places tied to education and the religions that were dominant at Fort Vancouver during the early colonial era. Students will examine the belongings of past people associated with Fort Vancouver to re-examine the history of these important and contested colonial places.
Can I visit the dig site?
Yes! Archaeological excavations will take place from July 1 to July 30. Excavation sites will be located north of East 5th Street and inside the Fort Vancouver stockade. The public is invited to visit and talk with student and professional archaeologists during the excavation Tuesday through Saturday, 9 am to 3 pm.
What else is there to do?
Join us for a ranger-led walking tour! Through the month of July, these special walking tours will take place on Wednesdays, Fridays, and Saturdays at 10 am. Participants will walk through the fort with a park ranger while hearing stories of the teachers who taught here and their students. The tour will end at the dig site. Reservations are not required. Tours will begin inside the reconstructed Fort Vancouver, located at 1001 E 5th Street, Vancouver, WA 98661.
How can kids learn about archaeology this summer?
In addition to seeing archaeology in action at the excavation site, kids ages 8 to 12 can join us for a hands-on Kids Dig program! Kids Dig programs will take place on three Saturdays in July: July 9, July 16, and July 23 at 10 am and 2 pm. Kids Digs introduce youth to archaeology through a hands-on mock archaeology dig. Kids Dig programs are free with paid regular admission for accompanying adults.
Reservations are required; call (360) 816-6230 to reserve a spot.
Accessibility and Visiting the Field School
Excavation areas inside the reconstructed fort and along East 5th Street are located in grassy areas adjacent to paved paths. Please watch your step as you approach the dig site. If you would like to visit the dig site and have accessibility questions or concerns, please call (360) 816-6230 for more information.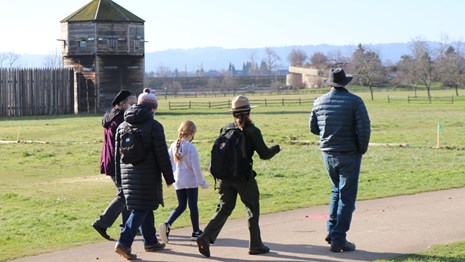 Join a walking tour
In July 2022, join us for a Schoolhouses at Fort Vancouver ranger-led tour. Check our Calendar to learn more!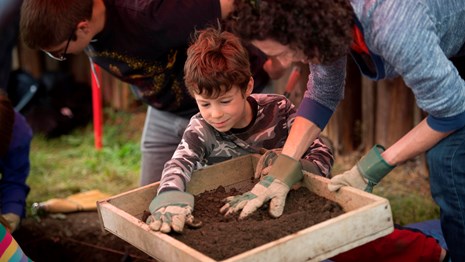 Join us for a Kids Dig!
Kids Digs introduce kids ages 8 to 12 to the fascinating world of archaeology!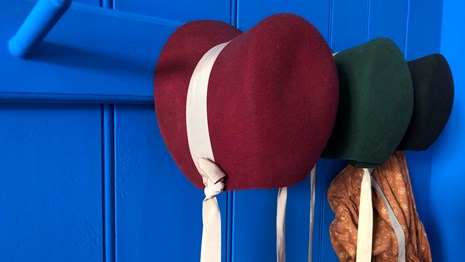 Survivors of the Fort Vancouver school
Learn the stories of Jane and Sarah Work, students at the Fort Vancouver school who were victims of abuse by their teacher.
Last updated: June 22, 2022