2013 Public History Field School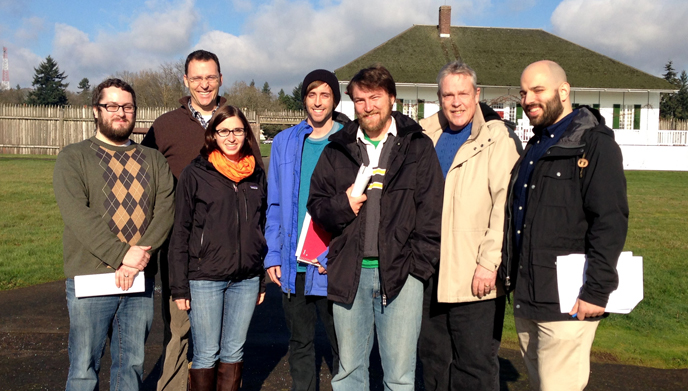 Course Title
History 511 -- Public History Lab: Historic Site Interpretation
Portland State University/Fort Vancouver National Historic Site
Public History Field School
Instructor
Greg Shine, Chief Ranger & Historian, Fort Vancouver NHS (360) 816-6231
Off Campus Office: Fort Vancouver NHS
Hours: Thu 9:30 a.m. - Noon or by appt.
Course Description
This course is designed to provide a focused, hands-on immersion into how history is promulgated by one of the leading stewards of our nation's history - the National Park Service (NPS). At Fort Vancouver National Historic Site, you will actively apply knowledge gained through lectures, group discussion, directed readings, research, interviews, and hands-on lab work to a practical final project.
This quarter, the project will be researching, designing, and writing a NPS digital publication that will highlight material culture items in the park's Archives & Reference Collection (ARC) and use them to help readers:
understand and connect on a personal level to the daily life of soldiers, civilians, and families at the nineteenth century Army post known as Fort Vancouver and Vancouver Barracks;

understand the national significance of the site as a unit of the national park system;

recognize the value of tangible items in historical archives, museum collections, and archaeology in understanding our collective past.
The class will combine three learning thread that will provide the focus for the course and the foundation for the final project:
the NPS' role as a purveyor of public history, complete with traditions, policies, regulations, and guidelines;

the fields of historical interpretation, material culture, and digital media with an emphasis on what the NPS calls "non-personal interpretation" including publications and digital storytelling;

specific knowledge of the site's nineteenth century history.
Upon completion of this course, students will have gained:
a strong working knowledge of professional work opportunities in history outside of academia;

in-depth knowledge, via a case-study format, of how history-based programming is planned in the national park system;

practical training a student might not normally receive in the traditional history classroom setting;

experience creating and presenting a public history publication that meets professional standards;

a practical and marketable skill set in historical interpretation;

a fun, creative, and challenging learning experience in your national park.
For more information, please click on one of the links below:
Last updated: February 28, 2015