2011 Public History Field School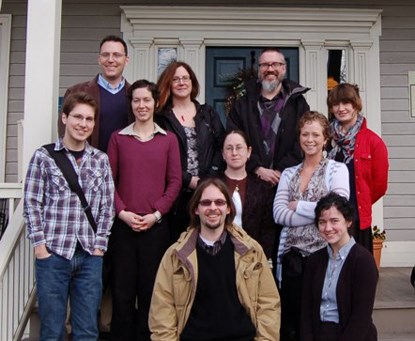 Beginning in January 2011, Greg Shine lead Portland State University students through discussions, directed readings, practical exercises, on-site instruction, and research in the creation of a plan for the national park system to use podcasting and other new media techniques to tell the story of the 150th anniversary of the American Civil War.
Utilizing a new thematic context established by the NPS and leading historians, students interpreted and applied themes, identified national parks with major resources related to each, worked with parks to identify prospective stories, and crafted a four-year plan that meets NPS professional standards and gives students a unique hands-on experience.
Throughout the course (HST 409/509), students worked with National Park Service professionals at Fort Vancouver and at national park sites across America.
Interested? Follow the class blog here: http://hst409509.wordpress.com/
This course is designed for students who:
want to gain practical experience working with the nation's foremost public history agency on a nationwide public history initiative;

enjoy history-related podcasts and have an interest in the historical research and planning that informs them;

have an interest in the era of the American Civil War, the sites where it is commemorated, the stages of its public memory, and current debates over wartime symbols, causation, results, and legacy;

want to help plan and craft new media projects that interpret the American Civil War as a struggle between competing visions for a Nation, experienced differently by different people -– depending on race, gender, politics, geography, socioeconomic status, and cultural background.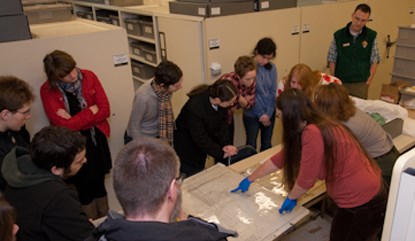 Course Focus
The national focus of the Winter Quarter 2011 course is a departure from the past, where we have utilized local resources at Fort Vancouver NHS to create site-specific media or programs.
For example, our 2009 Public History Field School inventoried and examined interpretive media at Fort Vancouver, identified gaps in interpretation of the site's history, and then crafted an online exhibit that helped give visitors a more complete understanding of the site and its significance.
This year, our focus has expanded to the national level. The year 2011 marks the sesquicentennial of the start of the American Civil War, and much is being done to commemorate it. From state commissions and committees to Twitter feeds, from secession balls to newspaper blogs, it is becoming harder to escape the deluge of interest in the war, its causes, and its aftermath.
The National Park Service is no exception. It began preparation for the sesquicentennial several years ago, crafting a watershed plan Holding the High Ground, that"urges a broader approach to the Civil War — it seeks to have parks challenge people with ideas, challenge them to not just understand the nature and horrid expanse of the bloodshed, but the reasons for it, and the consequences of its aftermath. . . This plan expands the accepted definition of what constitutes Civil War site and proposes a more nuanced approach to interpretation — one that goes beyond stereotypes toward a clearer (though more complex) understanding of the war."
My hope is that our work will follow and build upon this spirit of inclusion, and that we craft a plan that uses digital media to help weave a more holistic, warts-and-all narrative of the Civil War — one that helps all Americans (not just military history buffs) understand the war's relevance and legacy today.
-Greg Shine, posted to class blog on January 3, 2011
Course Description
This course is designed to provide a focused, hands-on immersion into how history is promulgated by one of the leading stewards of our nation's history – the National Park Service (NPS). At Fort Vancouver National Historic Site, you will actively apply knowledge gained through lectures, group discussion, directed readings, research, interviews, and hands-on lab work to a practical final project. As described briefly in an earlier post, this quarter the project will be a presentation and report to the National Park Service in Washington, D.C. and will contribute to the agency's official sesquicentennial commemoration.
In structuring the class, I'm seeking to combine three learning threads: 1) the NPS' role as a purveyor of public history, complete with its own history, traditions, policies, regulations, and guidelines; 2) the field of historical interpretation, with an emphasis on digital storytelling and audio podcasting; and 3) specific knowledge of the Civil War and the upcoming sesquicentennial, with an emphasis on its public memory (what has/has not been told, what is/isn't being told, why, and who is doing the telling) and its past and present commemoration.
Together, these three threads will provide the focus for the course and the foundation for the final project.
Throughout the course, you will work with me and other NPS park rangers and public history professionals throughout the national park system.
Upon completion of this course, it is my hope that you will have gained:
a strong working knowledge of professional work opportunities in history outside of academia;
in-depth knowledge, via a case-study format, of how systematic history-based programming is planned and created in an agency such as the National Park Service;
practical training you would not normally receive in the traditional history classroom setting;
experience creating and presenting a history-based management plan that meets professional standards in historic interpretation to national leaders in the field of public history;
a practical and marketable skill set in historical interpretation;
experience planning and crafting a new media project that interprets the American Civil War as a struggle between competing visions for a Nation, experienced differently by different people – depending on race, gender, politics, geography, socioeconomic status, and cultural background;
a fun, creative, and challenging learning experience in your national park.
- Greg Shine, posted to class blog on January 6, 2011
Our Project
As you can see from the previous entry, I'll be combining three learning threads (NPS History/Policy, Civil War Memory/Commemoration, & Interpretation/Digital Storytelling/Podcasting) in this quarter's class.
One of the questions I've already received is this: what exactly is the project?
We will work directly from NPS guiding documents, focusing on three that you'll find in the resources section in the right-hand column: the NPS report to Congress entitled Holding the High Ground, the NPS' Civil War 150th Anniversary Vision Statement, and the NPS media plan Civil War 150th: Podcasts. Holding the High Ground. Each quarter (3 month period) during the four years, one of the 16 themes will be featured and the three monthly audio podcast episodes that quarter will directly tie to it.
With the caveat that all projects can (and often do) morph during the development process, the following represents what we've envisioned as the first iteration.
After some initial thought and discussion, what we'd like to create a detailed plan for 48 monthly audio podcasts over the four years of the sesquicentennial. These would directly tie to the 16 interpretive themes established in
In the plan, we will make specific recommendations as to possible parks and specific stories to feature, toward a goal of having no repeating parks/stories and at least 48 different NPS units represented. This will give us three specific podcasts to highlight each one of the 16 themes, spread out over four years. If time allows, we will also research, write, and record at least one model podcast.
This leaves us with some initial direction but a lot of room for creativity, too. Will the final plan resemble this first iteration? We'll see!
-Greg Shine, posted to class blog on January 6, 2011
Last updated: February 28, 2015