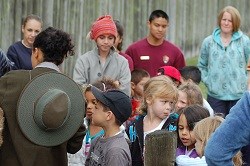 This program runs September 29th through February 13th. Tours at 9:30 a.m., 10:30 a.m., 11:30 a.m., and 1:30 p.m., Mondays through Fridays. It last 45 minutes and is open to one class of 35 students. Schools with multiple classes are welcome to reserve more than one time slot. This program begins at the main gates of the fort.
Description:
For this exciting and dynamic program, your class will be teamed up with an individual Ranger and led on a walking tour of four different buildings within Fort Vancouver. At each building, the class will receive a guided program that includes an interactive component.
In the Fur Store, the students will learn about the role of furbearing mammals during the fur trade, as well as an introduction to the animal's natural histories and characteristics. Students will then have the opportunity to touch and examine over ten different types of pelts.


At the Indian Trade Shop, students will be introduced to both the goods exchanged for furs at Fort Vancouver, as well as the Native American Chinook Jargon that was the trade language of the Pacific Northwest.


While visiting the Blacksmith Shop, classes will observe demonstrations of forge working, as well as period fire making and beaver trap functioning.



The fourth building tour will be determined the day of the visit, based upon the teacher's educational curriculum, student interest, or Ranger's choice. Possibilities include the Chief Factor's House, Bake House, Counting House, Bastion, or any of the other six historic reconstructed buildings within the fort.
Classes are free to engage in self-guided explorations of the fort at any time before or after the program, however we do ask that the three fixed locations used during the circuit be avoided prior to the guided tour.
Return to the About Programs page.