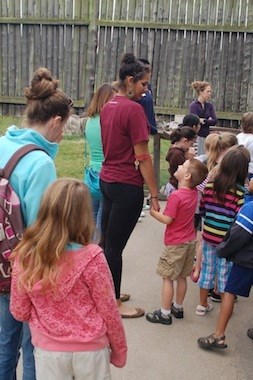 This program is year round and runs at 9:30 a.m. to 2:30 p.m. Tuesday through Friday. A self guided program for adventurous educators who require a more flexible schedule. A reservation for this program is not required, however please indicate on the reservation form when you plan to visit, so our staff can properly prepare.






Description:

Guiding your own expedition at Fort Vancouver is the best of both worlds. A fully organized package that combines the freedom of touring on your own meticulously planned schedule and support when needed. It's a unique style of making history come alive for you and your students.
We know that for most explores, preparations and research is half the thrill. Lead your expedition back in time. Imagine yourself in the surroundings of the carefully reconstructed Fort as it was originally. Discover what life was like inside the stockade. Discuss why the Hudson Bay Company chose this location and how this historical site impacted American history. Find parallels between the global economy that existed then and now.

As the leader of your group start or end your expedition with a movie, "One Place Across Time", currently showing at the Tex Rankin theater located in the Pearson Air Museum just a short distance from the Fort through the peaceful winding Spruce Mill trail surrounded by beautiful view and a grassy meadow adding to your experience along the way. Also at the Pearson Air Museum discover new exhibits and the story of Pearson Air Field.
Fort Vancouver National Historic Site has many Facets to fit any school curriculums, History, Science, Economics, Architecture, and Archeology; a perfect site to inspire artists.
Your Role?

Walk, Inspire, Discover, Explore, Learn and Enjoy!
Planning Resources:

Fort Vancouver National Historic Site has programs and events open to all visitors. Allowing time in your itinerary for a scheduled program or event will certainly enhance your experience. Please check our Schedule of Events for details. Other helpful suggestions can be located at our Teacher Resources page.
What you expect as an expedition Leader:

Upon arrival, meet and greet with a Park Ranger that will offer suggested routes and a Fort Vancouver National Historic Site guide booklet to use for the day. You can also expect a serene safe environment conducive to learning and teaching.
Fee:
$5 dollars per person, children 15 years and under are free. A fee waiver is available for qualifying education groups. Fee Waiver request must be submitted prior to your planned tour.
Suggested Reading:

The park offers a number of brochures--also known as Site Bulletins--Several of these brochures can be downloaded from our Brochure page.