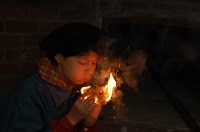 This programs runs at 9:30 a.m. and 11:00 a.m. Wednesdays and Fridays, April 24th through June 7th. It lasts 1 hour and 15 minutes and is open to 2 classes (70 students, including chaperones).
Program begins at the fort parking lot and does not enter the stockade. Please note, this program takes place in the Company Village and on the Land Bridge Trail, entirely outside the walls of the fort. Please dress for the weather. Teachers are welcome to take their students for a self-guided tour of Fort Vancouver before or after this program. Reservations for this program open January 1st.
All RESERVATIONS FOR THIS PROGRAM HAVE BEEN FILLED


Description:
This program focuses on multiple ways we learn and experience history, while highlighting the many dynamic cultures of the Fort Vancouver Village. Emphasizing life outside the Fort and history beyond the textbook, the program begins with a walk from the parking lot to the reconstructed Village.
En route, students learn words and signs for their surroundings in Chinuk Jargon, a jargon developed from indigenous and European languages to enable trade in the Pacific Northwest. Upon arrival to the Village, students help translate the story of the Origin of Fire, told in English and the Chinuk Jargon featured in the walk, and then try fire-starting for themselves.
Students then delve into an interactive game about another way we learn history - this time, from the perspective of archaeologists uncovering mysteries about the Fort Vancouver Village.
Concluding by singing a Fort Vancouver song about what we learned on the walk back to the parking lot, this program exposes students to oral history and archaeology in order to illustrate that there is more than one side to history, and more than one way to learn it.
Click here to return to the About Programs page.