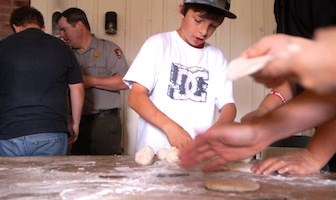 ***NEW SPRING EDUCATION PROGRAM***
This program begins at 9:30 am and 11:30 am Tuesdays and Thursdays. The program lasts 1 hour and 15 minutes to 1 hour and 30 minutes, and is open to 3 classes, 35 students each class. Program begins at the Front Gates of the reconstructed fort.
Program Description
Part II of Understanding Our Past and Ourselves will focus on the lives of the people who worked the trade jobs. Students will explore the Blacksmith Shop or Bakehouse, Carpenter Shop and the Fur Store to discover the many connections from past to present that Fort Vancouver offers.
in the Blacksmith Shop*, the students will observe blacksmiths work with metal and learn the importance of this particular trade was to the entire fort. Or they will visit the Bakehouse where they will be able to make sea biscuits and discover the importance of that small-rounded cracker was to many people.
In the Carpenter Shop, students will learn the ways and importance of a carpenter in the 1840's and will construct a miniature replica of the carpenter shop just like a carpenter would.
In the Fur Store, students will discover the tasks of a fur trapping family on brigade. They will get a hands on experience of what some of the children of the families would have to do out in the wilderness.
Classes are divided into three groups, and groups move between buildings in 20-minute rotations.