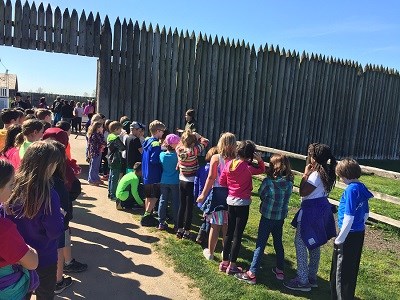 2018 Spring Education Programs

Tour:
A Walk Back in Time
Tours Start and End:
March 6 - June 8

(Holidays Excluded)

Tour Days:
Tue, Wed, Thur, Fri
Tour Times:
9:30 am, 11:00 am
Tour Duration:
50 minutes
Tour Capacity:
105 total, Three classes of 35 students tour
simultaneously.
(Teachers & chaperones not included)

Students will learn about the lives of people who were instrumental in the fur trade and westward expansion. Tour stops include the Chief Factor's House, Indian Trade shop, and Fur Warehouse. The Chief Factor's house will cover the life of the gentlemen, Dr. John McLoughlin, and the aid he provided American settlers of Pacific Northwest. The Fur Warehouse will provide insight into the lives of the French Canadian, Iroquois, Metis, and Hawaiian brigade men. In the Indian Trade Shop, students will see the items that help tell the story of the lives of the local villagers who came to the shop to trade furs and homemade goods and supplies.

To begin the registration process, fill out the Field Trip Online Application.

Learn more about fee waivers here.

Review our checklist and frequently asked questions here.