Parks as Classrooms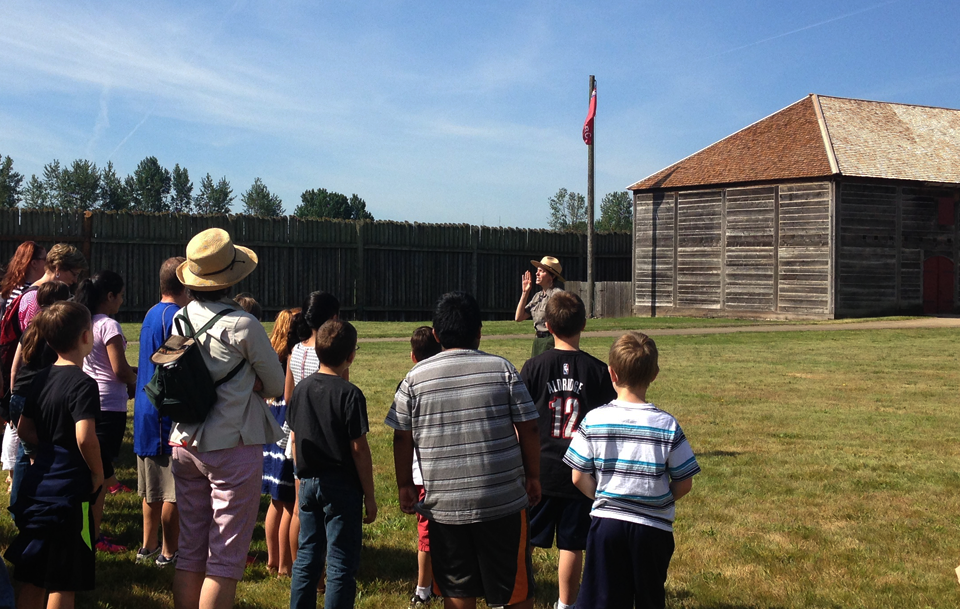 At Fort Vancouver National Historic Site, we offer a variety of education programs to meet teacher and student needs.
For the 2016-2017 school year, fall/winter programs begin on October 4, 2016, and spring programs begin on March 6, 2017 Education programs are offered Tuesdays through Fridays. Guided programs do require reservations. Please click on the program links below to learn more!
2017-18 Fall/Winter Programs: Kindergarten - 8th Grade
Offered Tuesday through Friday; October 3, 2017, through February 10, 2018.
2018 Spring Programs: Kindergarten - 8th Grade
This program will be offered Tuesday Through Friday; March 5, 2018, through June 8, 2018.
Year Round Programs: Kindergarten - High School
Schedule a Field Trip
This series of lessons invites you to turn your attention to the Fort Vancouver Village, which was the home for the many hundreds of Hudson's Bay Company (HBC) employees, their families, and visiting trader and travelers during the period of 1829 to 1860. It was a highly diverse populations with residents from Europe, over 30 American Indian tribes — spanning the continent from the Iroquois nation to Native Hawaiian Islanders — and those of multi-ethnic origin, the Métis.

This series of lessons invites students to learn about this surprising story using objects left behind by the villagers themselves. As such, it encourages learners to engage in the kind of historical thinking expected by Washington's Grade Level Expectations (GLEs) and Classroom Based Assessments (CBAs.)
Our experiences suggest that this is a unit best taught to
middle school students
, but one which could easily be adapted for elementary or high school students. The lesson series would serve students before, after, or instead of a field trip to Fort Vancouver.
2016 Public Archaeology Field School: College & University Students (graduate and undergraduate)
Email
e-mail us
with your questions.
Portland State University, Washington State University Vancouver, and the National Park Service are pleased to announce the annual field school in historical archaeology at Fort Vancouver National Historic Site. The program will introduce the method and theory of fieldwork in historical archaeology. Students will participate in all aspects of field and laboratory work: laying out units, excavation by shovel and trowel, mapping, drawing, photography, and cleaning, identifying, and analyzing artifacts. This year's project will continue the use of digital recording using tablet computers to assist in recording of the dig site and grave monuments. The season includes lectures by guest speakers and staff. The National Park Service and its partners are committed to sharing cultural resources and preservation values with the public. On a rotating basis, students will discuss the field school activities with visitors, including interpreting the significance of the site and the educational purposes of the project.
Email
e-mail us
with your questions.
Last updated: October 15, 2017