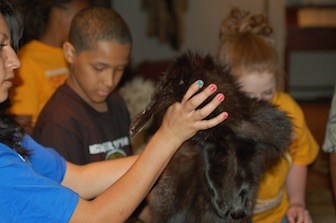 2016 SPRING EDUCATION PROGRAM
This program runs at 9:45 am and 11:00 am, Tuesdays through Fridays for a duration of 45 minutes to 1 hour. A total of 3 classes with no more than 35 students per class will tour simultaneously. The program starts promptly at the front gates of the fort.


Program Description
The main focus of "A Walk Back in Time" brings to light the jobs of the Hudson's Bay Fort Vancouver. Students will explore the Chief Factors House, Indian Trade Shop, and the Fur Store. These areas will be visited to discover the many connections from the past to the present that Fort Vancouver offers.
The Chief Factors House:

Chief Factor's House were they can compare the differences in gender roles of the 1840's to today. They will also investigate the house to find differences and similarities to their own homes and families.

.


The Fur Store: Students will discover the tasks of a fur trapping family on brigade. They will get a hands on experience of what some of the children of the families would have to do out in the wilderness without tools of modern times.


Indian Trade Shop: The emphasis will be on the local impact of global goods on both Western Native Peoples as well as Hudson Bay Company employees. Students will discover the types of items that were in most demand then and compare to what is on demand today.
Classes will then be free to explore other areas of the Fort.