Rendezvous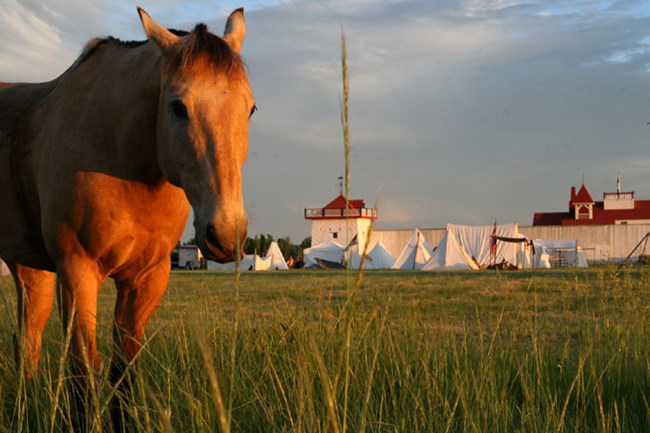 Rendezvous - June 18-21, 2020
This 19th Century Fur Trade Fair includes a variety of period arts, crafts and music. Come and participate in the upper Missouri's finest fur trade fair at one of the West's most imposing historic sites.
This annual gathering is our largest event, a time when Fort Union comes alive and best reflects the busy trade season. Over 100 Re-enactors from across the country and Canada every third weekend in June demonstrating traditional skills and lifeways.
Visitor Information
Fort Union Trading Post NHS will host the annual Rendezvous, Thursday through Sunday June 18-21, 2019. Mark the dates on your calendar and come and participate in the Upper Missouri's finest fur trade fair at one of the West's most imposing historic sites.

Each day will feature a variety of speakers and demonstrators. As well, our own array of trade goods will be presented in Fort Union's Trade House.

Thursday June 18th is Kids Day. Running from 10-2, kids can explore the site through free arts, crafts and game stations.

2020 Rendezvous Schedule of Events (Tentative) Last Update 1/18/2020

Many favorite demonstrators are returning and we will have a food concessionaire on site. In all, it promises to be another grand event!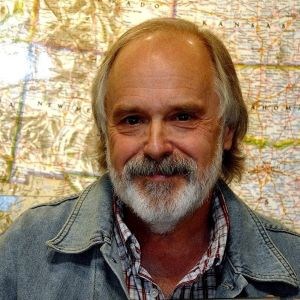 2020 Rendezvous Headliner - Award Winning Historical
Author Michael Zimmer

Headliner Program: Fort Union and the Métis
The Métis, or mixed-blood descendants of Native and European unions, were a powerful force across Canada and the northern tier of the central United States during the 19th century, including Fort Union and its region of influence. At one point, the Métis came close to establishing their own nation, which would have spanned the international boundary between the two countries. At Fort Union, the Métis were employed as hunters and traders. Because of their unique biracial background and bilingual skills, they were an invaluable link between the American Fur Company's Upper Missouri Outfit and many local tribes. Please join author Michael Zimmer as he presents—through vignettes, period photographs, and artwork—a history of the Métis culture and its influence on Fort Union.

About our Headliner:
Michael Zimmer is an award-winning author and lifelong student of the American Frontier. He has written both fiction and nonfiction on the Métis. Zimmer is a winner of the Western Heritage Wrangler Award from the National Cowboy and Western Heritage Museum for his Montana-based novel The Poacher's Daughter. The Wrangler honors "the best in film, literature, and music." Past recipients have included Larry McMurtry, Thomas Berger, James Michener, Edward Abbey, Barbara Kingsolver and Cormac McCarthy. Zimmer is also a two-time finalist for the Spur Award from the Western Writers of America. His novel, Beneath a Hunter's Moon, tells the story of the Métis men and women of the Red River Valley, and of their incredible journey across North Dakota in search of buffalo.
Participant Information
Are you interested in participating in the Fort Union Rendezvous? Please first read the full Safety and Authenticity Standards for Fort Fort Union Trading Post NHS, and then contact site Volunteer In Parks Coordinator Lisa Sanden at 701-572-1029 x218 or lisa_sanden@nps.gov for more information.

New information for 2019
Campfires are allowed at Rendezvous, dug fire pits are NO LONGER allowed at Fort Union. In order to minimize impacts to fragile archeological areas, disturbing the soils or sediments via digging for any reason is prohibited. Sand will be used to protect any subsurface artifacts from heat. Campfire are allowed at Rendezvous within the mown area of camp only.
To build a fire completely encircle your fire ring with the available rocks and place a firm layer of sand within the circle to completely cover any exposed ground. Sand and rocks will be provided.
Braziers are also available to check out and hardwood coal will be provided for use to anyone using a brazier.

Basic Information
The staff at Fort Union Trading Post NHS seeks a historically accurate depiction of life at Fort Union Trading Post NHS. To that end, certain standards are expected of all participants.

Gear and Clothing
We concentrate on the period 1828-1867. Clothing, camp equipment and materials should meet the test of being representative of the period. We do however, want all to feel welcome and colonial era (1770s era) is appropriate to this event. This event is co-managed with the Fort Union Muzzle Loader Association, their Bourgeois and Fort Union Park Staff will be available in camp for questions or concerns.
The primary focus of Rendezvous events is to portray and re-create of historic lifeways and material culture; including activities, camping equipment, fashion, and weapons, common on the Northern Plains during Fort Union's period of significance. We ask that you make friendly, personal contacts with our visitors. Such contacts will help create an interactive learning event.

Interpretive Themes
All interpretation should illustrate the interactions between American Indians from the Upper Missouri Tribes (Assiniboine, Crow, Blackfeet, Mandan, Hidatsa, Arikara and Lakota and Dakota Sioux); the tribes and Euro-Americans (American Fur Company employees, trappers, independent traders, hunters, rivermen, missionaries, slaves, visiting artists and scientists, military personnel, etc.); and among Euro-Americans who lived in, worked or traded at, or visited Fort Union in the early to mid-19th century. You can help our visitors understand what daily activities these people engaged in, what problems and challenges each of them faced, and how they may have dealt with them. You can use your experiences to help bring to life the fur trade story of Fort Union Trading Post.
This event is cosponsored by the National Park Service and the Friends of Fort Union Trading Post, of Williston, North Dakota.
The Fort Union Muzzle Loaders will assist the Park Service in policing the camp site.
All participants must sign a VIP volunteer agreement in order to participate and/or camp at Rendezvous.
Help protect and preserve this site's history and resources for future visitors' education and enjoyment while ensuing your own and current visitors' safety.
Last updated: January 18, 2020