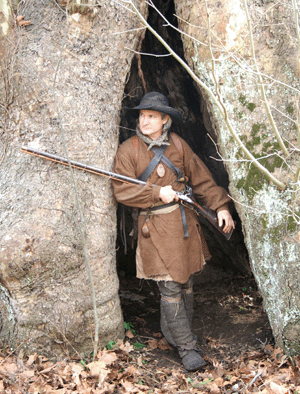 18th Century Culture Expert Mark Baker will Headline this year's Rendezvous!
Since 1986, Mark Baker has contributed articles to Muzzleloader Magazine about 18th century frontier culture, living history, experimental archeology, and living in the woods in the manner of a colonial backwoodsman. The first twenty years of the articles are now available as a two-volume anthology, A Pilgrim's Journey. He is also the author of a hefty tome on the social history on the frontier culture entitled Sons of a Trackless Forest.
Mark trained Daniel Day-Lewis in running and reloading skills for his role in Last of the Mohicans; and a few years later, he also trained Mel Gibson, Jason Isaacs, and Heath Ledger in marksmanship and reloading for The Patriot. Mark served as a trainer and consultant on wilderness survival skills for an Unsolved History episode on the Donner Party. He played Davy Crockett in Hunter Heroes: Boone and Crockett. Mark is also the featured expert on woodsman skills in the first four volumes of American Pioneer Video's The Long Hunter Series. Mark's topic for this year's School of the Longhunter will be "Exploring the World of the Longhunter and How He Found His Place" and "Tales of Hunting and Survival and the Making of a National Icon".
Mark Baker will present daily at Fort Union.
Traders and campers in period dress will set up just outside of Fort Union's north wall, with trader's row extending northward from the back gate. The traders will have their usual array of furs and handcrafted items available. Each day will feature a variety of speakers and demonstrations including blacksmithing, canoes of the fur trade, sign language, flint knapping, period cloth, finger weaving, weapon firing, beaver skinning, brain tanning and pottery making. Bagpipers will perform Sunday afternoon. A special daily presentation will be done on the use of cameras and photography during the 19th century.
An array of trade goods will also be presented in the trade house. The American Fur Company traded beads, cloth, blankets, knives, guns, tobacco, and cooking kettles in exchange for buffalo robes and other furs from the Assiniboine, Crow, Cree, Ojibway, Blackfeet, and Hidatsa tribes. Taken from the clerk's ledger lists of 1848-51, exact replicas of more than 200 trade items are available for purchase today.
Come and spend the day at Rendezvous. Admission is free. Buffalo burgers and drinks will be on sale in the parking lot.
Complete 2012 Rendezvous schedule - Updated!
2012 Rendezvous Information for Visitors