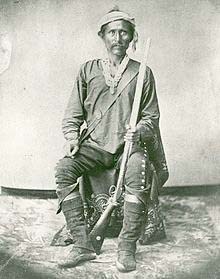 The Navajo leader Barboncito played a critical role in helping the Navajos return to their ancestral homeland in 1868. As the lead Navajo negotiator, he met with General William T. Sherman and ironed out the treaty that established the Navajo Reservation in the Four Corners region. This made the Navajos unique--the only Indian nation to use a government treaty to
return
to their homeland.
For four years leading up to the treaty, nearly 9,000 Navajos had been imprisoned by the U.S. government hundreds of miles from their homeland at the hated
Bosque Redondo Reserve
in eastern New Mexico. Before the Navajo internment, Barboncito led a rare Indian attack on a U.S. Army fort when the Navajos almost overran Arizona's Fort Defiance in 1860. But when the Army retaliated with a pervasive and crushing assault on the Navajos in late 1863, Barboncito urged his followers to placate their enemy.
Plagued by bad water, bad soil, a dire shortage of firewood and repeated attacks by rival Indians, the once-mighty Navajos wilted at Bosque Redondo. Conditions were so bad that Barboncito fled the reserve on two different occasions (later returning both times). "I used to think at one time that the whole world was just like my own land, but I fooled myself. Outside my own country, we cannot raise a crop, but in it we can grow food almost anywhere. Our families and livestock get larger. Here they get smaller. We know this land does not like us," Barboncito told General Sherman.
I