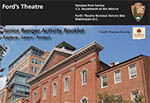 Junior Ranger Activity Booklet, National Park Service
The Junior Ranger Program can be the highlight of a visit to Ford's Theatre for children, not to mention that it's a lot of fun. See any park ranger in the theatre and ask about the program when you visit. Or click on the link above and down load the booklet before your visit.
Ford's Theatre National Historic Site is located at 511 10th Street N.W., Washington, DC 20004. If you have any questions, feel free to contact us at (202) 426-6924 or on the web at www.nps.gov/foth.