Kids & Youth
Ford's Theatre Junior Ranger Program
The Junior Ranger Program can be the highlight of a visit to Ford's Theatre for children, not to mention that it's a lot of fun. See any park ranger in the theatre and ask about the program when you visit. Download the Junior Ranger Book.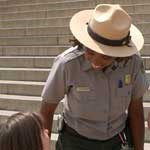 National Mall and Memorial Parks Junior Ranger Program
National Mall and Memorial Parks has several Junior Ranger activities for the adventurous young visitors to earn badges. Check out the Be a Junior Ranger Page.
Last updated: January 23, 2020