Fort Sumter Ticket Information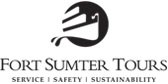 Tickets and Reservations
Tour boats to Fort Sumter are provided by Fort Sumter Tours, the authorized concessioner of Fort Sumter and Fort Moultrie National Historical Park. There are two departure locations: at Liberty Square (340 Concord St., Charleston) and Patriots Point (40 Patriots Point Rd., Mount Pleasant). Each tour lasts approximately 2 hours and 15 minutes. The National Park Service highly recommends purchasing tickets prior to the day of your visit. For more information on the park concessioner, visit: www.FortSumterTours.com. Please review safety regulations and pet policies prior to your visit. This is the only way to reach Fort Sumter. Private boats are not permitted at the fort.
Accessibility is limited at Fort Sumter. The museum, restrooms, bookstore, and top level of Fort Sumter are only accessible by climbing stairs. Please call ahead if you have any questions about the fort's accessibility (843) 883-3123.

Thunderstorm Season Alert. National Park Service staff and volunteers will make decisions about visitor safety based on current conditions and guided by standard operating procedures. When visiting Fort Sumter, we ask that visitors be aware of their surroundings and follow directions given by uniformed personnel in preparation for, and during, stormy conditions.

Staff will inform visitors when there is a possibility that storms may impact the length of time people can spend at Fort Sumter.
Boat Schedule

For the

first boat of the day, restrooms are unavailable at Fort Sumter. Restrooms are available on the ferry boat and at the Liberty Square.

| Date | Liberty Square - Downtown Charleston | Patriots Point - Mount Pleasant |
| --- | --- | --- |
| Jan 2 - Feb 28 | 11:00am, 2:30pm | 1:00pm |
| Mar 1 - Mar 14 | 9:30am, 12:00pm & 2:30pm | 10:30am, 1:00pm |
| Mar 15-Aug 20 & Labor Day Weekend | 9:30am, 12:00pm, 2:30pm & 4:00pm | 10:30am, 1:00pm & 3:30pm** |
| Aug 21 - Nov 30 | 9:30am, 12:00pm & 2:30pm | 10:30am, 1:00pm |
| Dec 1 - Dec 24 | 11:00am, 2:30pm | 1:00pm |
| Dec 26 - Dec 31 | 9:30am, 12:00pm & 2:30pm | 10:30am, 1:00pm |
| Thanksgiving, Dec 25 & Jan 1 | Fort Closed | Fort Closed |
**This boat trip makes a brief interim stop at Liberty Square before and after fort tour.


Tour boat schedule is subject to change and cancellation at anytime.

Rates for Fort Sumter Tours


Rates are subject to availability and can change without notice. For more information call Fort Sumter Tours (843)-722-2628.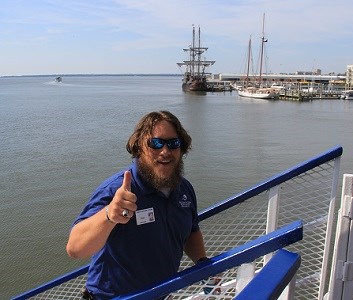 National Park Pass Program
The America the Beautiful or National Park Passes and Federal Recreation Lands Passes apply only to entrance fees (These include the Senior Pass or Golden Age Pass, Annual Pass, Military Pass, 4th Grade Pass and Access Pass). Passes do not apply for the tickets required by Fort Sumter Tours to the Fort. Fort Sumter does not charge an entrance fee.
For the most up-to-date information on visiting Fort Sumter like us or follow us on Facebook.
Last updated: July 26, 2019