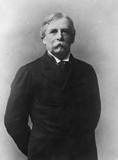 In the early 1880s Americans once again became concerned with the status of seacoast defenses. Neglected and underfunded since the Civil War, many seacoast fortifications had become obsolete as advances in artillery and naval warfare accelerated exponentially. As a result of this President Grover Cleveland created the Board of Fortifications in 1885, comprised of Army, Navy, and civilian personnel and headed by the Secretary of War William Endicott.
In 1886, this board recommended a massive overhaul of the coastal defensive system guarding America's coastline. This $127 million project would use the most advanced artillery technology available including concrete batteries mounting steel breach-loading cannon or mortars, and submarine mines in 29 locations along the coasts including three in the Great Lakes. The Board of Ordnance and Fortifications was formed in 1888 to evaluate and test these recommendations.
Following their review, construction began at a modest pace in 1890; however, the reemergence of Spanish influence in the Western Hemisphere accelerated the work. Defensive positions built during this fourth system were built with earth and concrete parapets, meant to blend in with the surrounding landscape. In addition to defensive positions on the land, electronically controlled submarine mines were placed in major waterways were a key feature of the fourth system as well.
The fourth system or the Endicott System, as it came to be known, was brought to Charleston Harbor in March of 1896. Battery Capron, a mortar battery comprised of sixteen 12-inch mortars, and Battery Jasper, built a year later in 1897 with four 10-inch cannon, were the only modern defenses in Charleston when the United States declared war on Spain in April of 1898. When the short four month war ended in August of that year, construction on the system continued.
Six more batteries were constructed on Sullivan's Island including three rapid fire cannon positions inside Fort Moultrie, and Battery Huger, with two 12-inch cannon at Fort Sumter. The Endicott System was completed in 1910 after 20 years of construction. Although these cannon positions never fired a shot in anger, their presence in the harbor represented another generation's willingness to defend its shores.
Two of Fort Moultrie's rapid fire batteries as well as Battery Jasper on Sullivan's Island and Battery Huger at Fort Sumter remain for visitors to view and explore. The cannon have been removed from the larger batteries, but these structures remain as testaments to the steps that were taken at the turn of the 20th Century to protect American shores in the face of growing imperialism and advancing warfare technology.