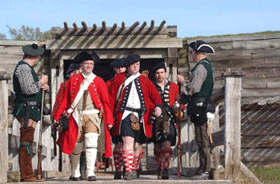 Compiled by Park Ranger William Sawyer

The Oneida Carry was the English name for the portage path between the Mohawk River and Wood Creek. The carry was a part of the major water route between New York City and Canada. It was between one to six miles in length depending on the season of the year.

The Six Nations had used it long before any Europeans moved into the area. The carry took on new importance for the Six Nations as they became involved in fur trade. Furs were brought south to trade with the Dutch and English, and northeast to trade with the French. In exchange for the furs, European trade goods traveled west. The English began to exert a presence in the area of the carry as early as 1727, when they built a fortified trading post at Oswego. They later erected stockades on both ends of Oneida Lake. By the early 1750s the Oneida Carry had developed into an active station with two landings on each end; "upper landings" for high water and "lower landings" for the drier seasons. Indians and Europeans in the area made a business out of supplying wheeled transport to haul freight over the carry.