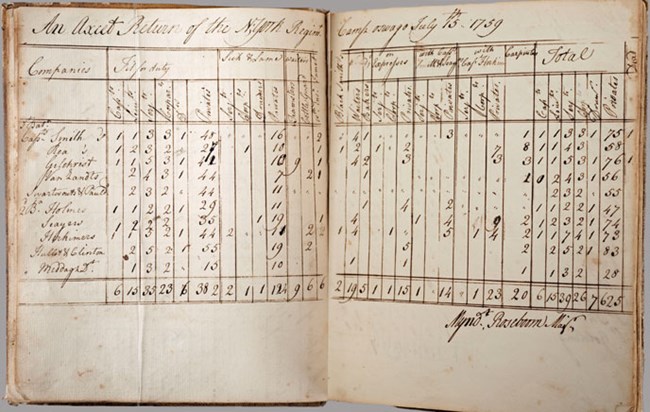 Camp Oswego 1759
In 1759, the British and French were in the middle of the French and Indian War. The NY Provincials were stationed at Camp Oswego, an important port on Lake Ontario used for trade and military movement.
This entry from the Myndert Roseboom ledger gives details of a military return for the NY Regiment at Oswego, NY. The entry, dated July 15, 1759, details the number of men under each captain's company within the first and second battalions. These two battalions would eventually go separate ways, one to Fort Niagara and the other staying behind to reconstruct Fort Ontario.
Each captain had at least one lieutenant, and multiple sergeants, corporals, and privates within their command. This entry is a snapshot in time and reveals the effectiveness of the regiment as indicated by the number of men who are "fit for duty" and others who are "sick and lame". This record detailing the number of men and various enlisted ranks and duties by battalions would have provided military leaders with essential information.