Fort Edward Payroll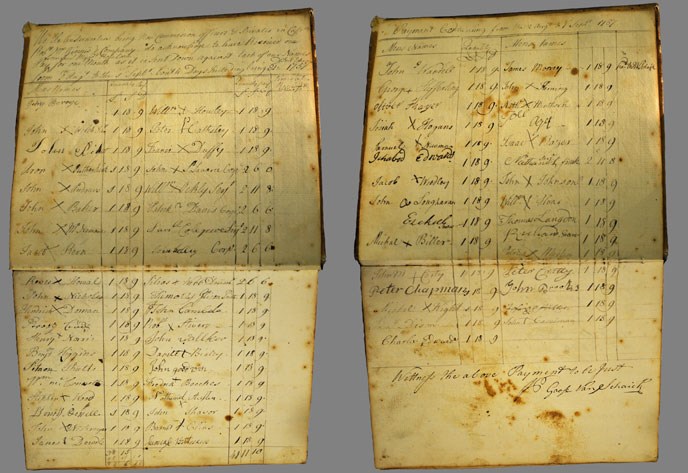 This pay roll roster details the names of the men of Captain Robert McGinnis' company stationed at Fort Edward in August of 1757. The ranks of the men listed vary from privates to sergeants and corporals. In this company, it appears the two sergeants, William Oakly and Samuel Colegrove, both received officer's pay of 2 pounds, 11 shillings, 8 pence. The three corporals, John Lawarce, Patrick Davis, and John Bolley, all received 2 pounds, 6 shillings, and 6 pence. A single drummer, Silas Webb was also paid the same amount as a corporal officer. Sixty-four privates received 1 pound, 18 shillings, 9 pence.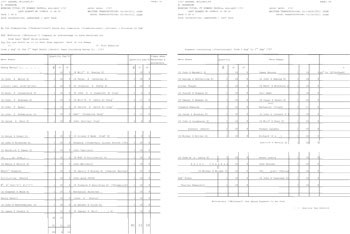 Book Keeping
Unlike most entries in this book, these pages are oriented in a "Landscape" orientation, across multiple pages.The second and fourth pages include a subtotal for the two pages visible when opened.Yet, there is no clear grand total for this pay roster.It would have been helpful to have a grand total, but this was not recorded.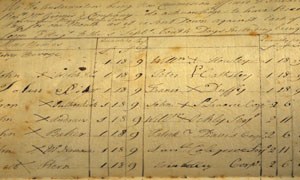 As you can see on the original image, some individuals were able to sign their name, while others were only able to make a mark, typically an X, to indicate that they received their pay. These signatures or marks reveal the extent of literacy among enlisted men during the 18th century. Not many people had access to education that included both reading and writing and the need to provide a signature was not as common as it is today. Upon closer examination, you can see that some men tried to stylize their X or create their own unique mark.
The payroll was distributed by Lieutenant Myndert Roseboom, the owner of this book. The individual standing by to ensure that the payments were made to the individual soldiers was Goose Van Schiack, whose rank during this time is unknown. During the American Revolution Van Schiack became the Commandant of Fort Schuyler (Stanwix). By 1759, Lieutenant Roseboom would become Major Roseboom by 1759 and Lieutenant Colonel Roseboom by 1760 (DeLancey 1851: 543 & 545).
Further Questions
It would seem that official military records, especially pay records, would have been kept in formal military ledgers. Yet, Myndert Roseboom recorded this payment in his personal book, which he identifies as a waste book. A waste book is traditionally used in bookkeeping. Why was the military payroll roster entered into a personal book of Lieutenant Myndert Roseboom? It remains unknown why military records would be allowed to be entered into a personal book that was used for personal financial bookkeeping.
Last updated: April 24, 2018