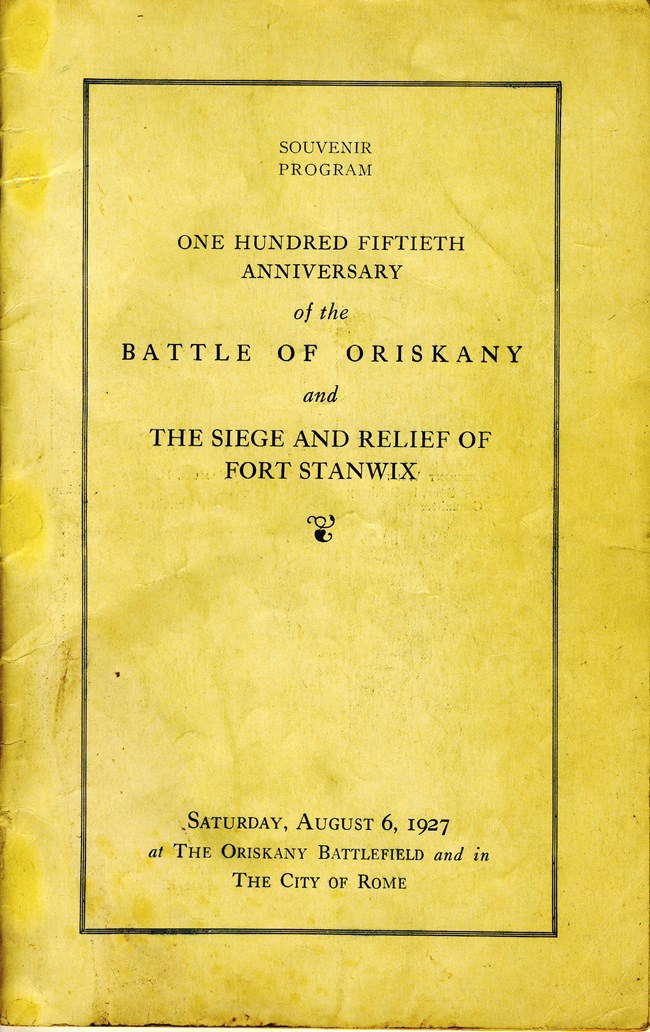 Article Written By Park Ranger William Sawyer


The City of Rome has had a long tradition of remembering and celebrating its history. Starting with the celebrations in 1877 (the Centennial of the Siege of Fort Stanwix), the city began holding "Fort Stanwix Day" sometime in late July or early August. This corresponded with the beginning of the British siege and the Battle of Oriskany. Over time more events, and therefore more days were added until the long running city celebration "Fort Stanwix Days" was born. Throughout this celebration's history many activities centered on remembering the fort and the people who served there. Even with the celebration's name change in more recent times to "Honor America Days," the idea of honoring the fort and Rome's history continues. In fact the largest event, the Honor America Days Concert, takes place on the lawn of Fort Stanwix National Monument.
The largest Honor America Days Concert pales in comparison however, to the Sesquicentennial celebration organized by the city (with assistance from the state) in 1927 to commemorate the 150th anniversary of the Siege of Fort Stanwix and the Battle of Oriskany. With an estimated one hundred thousand visitors, it would bring the largest number of people into the Rome area until Woodstock in 1999. It was also the event that would foreshadow the creation of the present day Fort Stanwix National Monument.
The main activities took place on August 6th (150th Anniversary date of the Battle of Oriskany), and began at 9:30 a.m. at the Oriskany Battlefield site. Music from the Watertown Fife and Drum Corps and the New Hartford Band entertained spectators. Then, shortly after 10 a.m., some new history was made. The Oneida County Historical Society presented the state with a deed for the Oriskany Battlefield Monument, and 4.87 acres of land. This would form the nucleus for the present day Oriskany Battlefield State Historic Site, enjoyed by both local residents and people from all over the world. Visiting today, one can view the "new" tablets unveiled on that August day in 1927, which added the names of an additional 232 militia men to the monument.
The centerpiece of the celebration however was in Rome. The Rome Sentinel's description of the city was similar to what can still be seen today during the Honor America Days events: "The city, spic and span…decked with flags and bunting in great profusion. Bands playing, streets alive with automobiles and pedestrians." The anniversary celebrations also helped bring about the first major scholarly work written about the British siege and the Oriskany battle. The Rome Sentinel commissioned its editorial writer, John Albert Scott to produce a history of the events of 1777. This account ran in a special addition of the paper on August 6th, and was also published as a book. To this day, Scott's
Fort Stanwix and Oriskany
remains one of the best researched and written accounts of the siege and battle.
Continues...