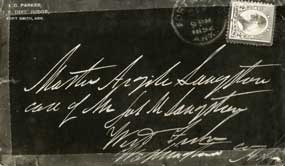 This letter to the son of a juror in 1892 provides a glimpse of the softer side of Isaac Parker. A copy of this letter was donated to the park in the 1960s by Argile Langston.
September 8, 1892
My Dear Master Langston,
I have received your very nice note, asking me to let your papa come home. I will be pleased to do so as soon as we can spare him. You know your father is a good man, and we need good men to make up the juries which are to try cases where men are charged with great crimes such as murder which men commit when they kill others. I hope I may live long to see you become a useful good man like your father. I was very glad to get your note and you will give my most kind regards to your mother and you will believe me to be most truly your friend.
I.C. Parker