Gallows Today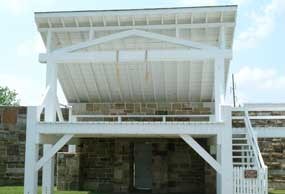 In the mid 1950s, as interest in the American West grew, the city of Fort Smith formed a commission to study the possibility of restoring the courtroom and the gallows. By May of 1957 the restoration of Parker's courtroom was completed and a replica of the gallows had been built.
The 1957 reconstruction was built to the south of the former barrack/courthouse and jail buildings, approximately 75 yards away from the original location, which at that time was occupied by a trucking warehouse. The reconstructed gallows was based on descriptions in historic newspapers and the image of the 1886 gallows. This reconstruction remained in place until 1981, when it was torn down, and the National Park Service built a reconstructed gallows on the original location. The second reconstruction remains in place today.
Archeology done at the site of the gallows in the early 1980s was not able to locate any trace of the original wooden wall or gallows structure.
Eric Leonard, Park Ranger
Today, nooses are hung on the gallows only on the anniversaries of historic executions. The number of nooses hung corresponds with the number of men executed on that day. Ranger-led programs are held at the reconstructed gallows on the anniversary dates of executions carried out by the federal court from 1873-1896.
For a schedule of the execution programs, click here.
Last updated: April 10, 2015