Judge Parker: An Able Jurist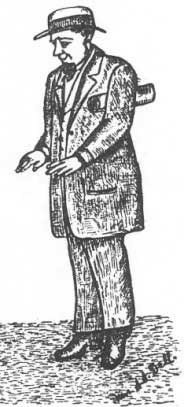 "…Judge I.C. Parker, [is] an able jurist, whose rare legal attainments and high judicial and social character eminently qualify him for a trust which he has discharged with distinguished ability and fidelity." - 'Handbook of Fort Smith,' 1887
According to Congress, the federal court for the Western District of Arkansas was to meet in four separate terms each year; February, May, August, and November. In reality, the court had such a large case load that the four terms ran together. In an effort to ensure that the court tried as many cases as possible each term, Judge Parker held court six days a week, and often up to ten hours each day. In 1883, Congress changed the jurisdiction of the court, and removed portions of the Indian Territory jurisdiction to federal courts in Texas and Kansas.
The decreased size of the jurisdiction provided some relief; however, the continued influx of settlers into the Indian Territory, and the resulting problems, contributed to an increased crime rate. During these years, the judge began to play an active role in the community of Fort Smith. In 1884, the government gave most of the 300 acre military reservation to the city to fund the public school system, largely at the judge's urging. Parker served on the school board and also served as the first board president of the Saint John's hospital (known today as the Sparks Regional Medical Center). The Parker family was involved in the community as well; his wife Mary participated in many social activities, and their two sons Charles and James went to the public schools their father helped to establish.
As a federal judge, his duties occasionally called him to testify in front of Congress, and he also substituted for other federal judges in the area. Besides the capital offenses, several important civil cases were tried by the court in the 1880s. The most famous of these was against David Payne, an Oklahoma Boomer illegally settling on lands in the Indian Territory.
On February 6, 1889, Congress made a sweeping change to the federal court in Fort Smith, when it stripped the court of its concurrent circuit court authority and allowed the United States Supreme Court to review all capital crimes. This law went into effect on May 1, 1889, and would have a drastic effect on Judge Parker's final years.
Eric Leonard
Read about these changes and the death of Judge Parker in 1896.
Last updated: April 10, 2015