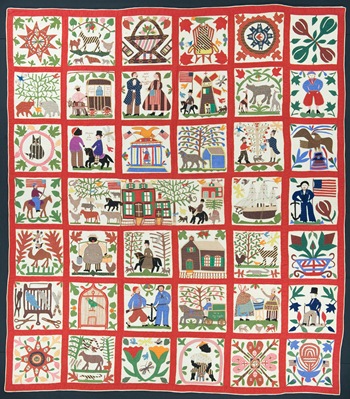 A 19th and 20th Century Quilt Exhibit from March 28 through April 10, 2014
The Reconciliation Quilt, a post-Civil War quilt, will come to Fort Scott National Historic Site from the International Quilt Study Center and Museum at the University of Nebraska-Lincoln. The Reconciliation Quilt and eight 19th and 20th century Log Cabin quilts will be on display during select dates and times between March 28 and April 10, 2014.
In 1867, Lucinda Ward Honstain made what has become known as the Reconciliation Quilt. The quilt reveals aspects of her individual and social identity following the American Civil War. Honstain's quilt vividly expresses the earnest desire for genuine reconciliation between Northern and Southern states in the post-war era. Her quilt contains 40 unique blocks depicting scenes of hope and compassion. The Reconciliation Quilt being displayed is an identical reproduction created by Hortense Beck of Topeka, Kansas, in 1995.
The log cabin quilts on display belong to the International Quilt Study Center's Education Collection, which is dedicated to educating the public about quilts. Log cabin quilts became an extremely popular American quilt style at the end of the 19th century. The increasing popularity of log cabin quilts is indicated by the addition of log cabin quilt categories at state and agricultural fairs. The quilts on display will showcase various log cabin quilt block styles.
The "Voices of the Quilts" exhibit is free and open to the public from 11:00 a.m. until 3:00 p.m. on March 28-30 and April 4-6. The exhibit may be viewed upon request during the week; advance arrangements are suggested and can be made by calling 620-223-0310. The exhibit will be held in the Grand Hall, which is accessible to the mobility impaired.
Fort Scott National Historic Site is open daily from 9:00 a.m. – 5:00 p.m. through March, and from 8:00 a.m. – 5:00 p.m. beginning April 1. The site is closed during some federal holidays. For more information, call 620-223-0310.