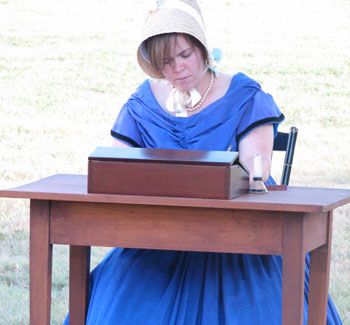 "How his pistol became loaded and for what purpose he took it from the holster whilst dismounting is buried in oblivion" Thus were the words of Charlotte Swords, an officers' wife at Fort Scott, who was describing the death of Captain Terrett to a friend to whom she was writing a letter. The accidental shooting death of the Captain will be one of the tragedies portrayed during an evening tour on June 15, 2013.
The tour features tragedies of Fort Scott history. During the tour, reenactors will create five different scenes in which soldiers or citizens of Fort Scott met violent deaths. Scenes will include patients dying in a Civil War hospital (1864), a drunken soldier who killed a corporal in a fight over a dog, (1846), and a fatal raid on Fort Scott.(1858). At each scene, visitors will hear voices from the past. Some of these incidents involve mysteries that have never been fully explained.
The tour will be held on Saturday June 15 starting at 6:30 p.m. just outside the site's visitor center and there is no charge for the tour. This will be just the first in a series of evening tours planned for this summer. Other evening tours featuring different topics will be offered on July 20, and August 17.
Fort Scott National Historic Site is open daily from 8:00 a.m.-5:00 p.m. Entrance to the site is free of charge. For more information call 620-223-0310.