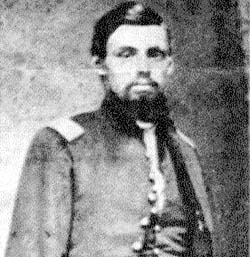 He was an outspoken abolitionist. As a young man, he assisted his father in the operation of a stop on the Underground Railroad. At age 18, he left home to join John Brown in his fight against slavery in Kansas. Five years later, at the beginning of the Civil War, he served as the editor of an ardent anti-slavery newspaper. One year after that, he joined in the Union cause as a lieutenant in the 3rd Wisconsin Cavalry, actively recruiting several men to fight for the Union, including two of his younger brothers, George and Homer, who served as privates with his unit. For much of the war he was stationed with his unit at Fort Scott. He and his brother George both won Medals of Honor for their courageous actions while serving in this area.
The story of James Pond will be one of many stories of courage portrayed on this year's candlelight tour at Fort Scott National Historic Site. This year will mark the 32nd anniversary of the tour. In commemoration of the Civil War's 150th anniversary, all five scenes on this year's tour will feature episodes of Fort Scott history in 1863. Included will be stories of courage of the African American soldiers in the Union Army who fought not only the Confederates who swore to execute them if captured instead of holding them as prisoners, but also prejudice within their own ranks. Courage of the townspeople, both men and women, who remained firm in their resolve to keep their town strong and to make a difference in spite of the violence that engulfed the area, will also be featured. Highlighting the tour will be the stories of the Pond brothers.
James Pond, who will be discussed in the fifth scene of the tour, won a Medal of Honor for his service at Baxter Springs on October 6, 1863. The citation for his Medal of Honor reads:
For extraordinary heroism on 6 October 1863, while serving with Company C, 3d Wisconsin Cavalry, in action at Baxter Springs, Kansas. While in command of two companies of Cavalry, First Lieutenant Pond was surprised and attacked by several times his own number of guerrillas, but gallantly rallied his men, and after a severe struggle drove the enemy outside the fortifications. First Lieutenant Pond then went outside the works and, alone and unaided, fired a howitzer three times, throwing the enemy into confusion and causing him (the enemy) to retire.
His brother George, who served as a private in his unit will be portrayed in the second scene of the tour. George would win a Medal of Honor in 1864. George stayed in Fort Scott after the war and is buried in the Evergreen Cemetery at Fort Scott. His name is one of three that appears on a newly erected plaque on Skubitz Plaza. The citation for his Medal of Honor reads:
For extraordinary heroism on 15 May 1864, while serving with Company C, 3d Wisconsin Cavalry, in action at Drywood, Kansas. With two companions, Private Pond attacked a greatly superior force of guerrillas, routed them, and rescued several prisoners.
The tour will be held December 6 and 7, 2013. Tours on Friday, December 6 will go every fifteen minutes from 6:30 p.m. to 9:00 p.m. On Saturday, tours will begin at 5:00 p.m. and go every fifteen minutes until 8:45 p.m.; with a break at 6:15 p.m. Tickets are $8.00 for each person age six and above, (children five and under are free) and are non-refundable. They can be picked up at the site or be reserved by calling 620-223-0310. Cash, check or charge (MasterCard, Visa, or Discover) are acceptable forms of payment. Advance ticket purchase is required. Western National Parks Association, which operates the site's bookstore, sponsors the tour. Proceeds generated cover the cost of conducting the tour.
From November 1-March 31, Fort Scott National Historic Site, a unit of the National Park System, will be open for its winter hours of operation from 9:00 a.m.-5:00 p.m. daily. For more information about the candlelight tour or other events at the site, call 620-223-0310.