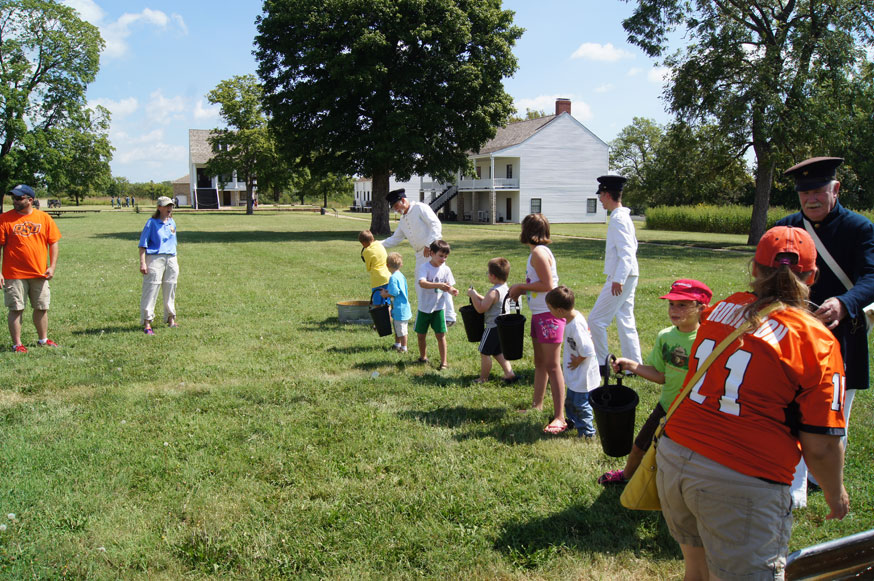 The three things that most attract visitors to Fort Scott—guns, horses, and guns—will be featured on Labor Day Weekend this year at Fort Scott National Historic Site. Note: due to unforeseen circumstances, there will be no horses this weekend.
A program demonstrating the small arms of both the infantry and the dragoons soldiers will be offered on Saturday and Sunday of that weekend, while the site's artillery crew will fire the big gun on Sunday and Monday. Additionally on Saturday, reenactors portraying dragoon soldiers will be on horseback and offering mounted demonstrations. Other programs that weekend will honor the work of the soldiers or things the soldiers did to take a break from work.
On Saturday, September 3, the bakehouse and mess hall will be active with the smells of soldiers cooking bread and the noon meal. An 1840s doctor will have his shingle out at the post hospital. A laundress will be demonstrating Dutch oven cooking, and a soldier will be showcasing 1840s construction methods and tools.
On Sunday and Monday, you can catch up on the latest gossip at the fort in a program titled "Frontier Gossip" which will focus on officer's wives at Fort Scott. "Bucket Brigade" will be a relay showing how the guards fought fires. Kids of all ages are invited to participate in this program and should be prepared to get wet.
On Monday, there will also be a special Labor Day tour "From the Crack Post of the Frontier:" This tour will focus on the labor force, building materials, architectural styles, and construction techniques used in the building of Fort Scott.
In addition to these programs, there will be a Centennial Grand Ball on Saturday, September 3rd, 2016 at the historic Memorial Hall in the town of Fort Scott, Kansas. It is being hosted by the volunteers and Friends of Fort Scott National Historic Site in commemoration of the 100th Anniversary of the National Park Service. Doors open at 6:00 p.m. with dancing from 7:00-10:30 p.m.
Admission for the ball is as follows
General Public- $15 in advance/$20 at the door per person or two for $25 in advance/$35 at the door.
Friends members- $10 in advance/$15 at the door.
Children 12 &Under and Dance Observers- $5.
All proceeds go to the "Friends" group, which will use the funds to support special programs at the historic site. Tickets can be purchased at Country Cupboard or the Fort Scott Chamber of Commerce. A rehearsal for the ball will be held that Saturday from 10:00 a.m. -1:00 p.m. in the historic site's Grand Hall.
Fort Scott National Historic Site is one of 413 units of the National Park Service. It is open daily from 8:00 a.m.-5:00 p.m.
Following is the schedule of activities for the weekend.
Saturday, September 3rd
10:00 a.m. "Flour, Sweat and Tears"-Bakehouse Talk

10:00 a.m.Dance rehearsal for Centennial Ball

11:00 a.m.Guided Tour

12:00 p.m."Hardy Dashing Fellows"-Dragoon Talk

1:00 p.m."Flash in the Pan" -Small Arms Demonstration

2:00 p.m."Home Improvement" (without the power tools) -1840s Construction Demo

3:00 p.m.Flash Flood: Fort Scott and Westward Expansion

4:00 p.m.Flag Retreat

7:00 p.m.Centennial Grand Ball (Memorial Hall)
Sunday, September 4th
11:00 a.m.Guided Tour

1:00 p.m. Thunder Wagon:1840s Artillery Demo

2:00 p.m."Frontier Gossip"-The Real Lives of Fort Scott Officers' Wives

3:00 p.m."Flash in the Pan" -Small Arms Demonstration

4:00 p.m.Flag Retreat
Monday, September 5th
11:00 a.m."Crack Post of the Frontier" –Guided Tour-Construction History of Fort Scott

1:00 p.m.Thunder Wagon:1840s Artillery Demo

2:00 p.m."Frontier Gossip"-The Real Lives of Fort Scott Officers' Wives

3:00 p.m.Bucket Brigade: 1840s Guard Duty and Firefighting

4:00 p.m.Flag Retreat